The tech industry has long been known as a male-dominated field, but there are women who are breaking down those barriers and paving the way for future generations. Emira Nabila is one of those women. As a Service Assurance Engineer at CSP Global Technologies, she dedicates herself to researching, diagnosing, troubleshooting, and identifying solutions for critical infrastructure issues. From network to cloud level, she takes on each problem with a sense of determination, drawing on her vast experience to develop solutions that are both effective and efficient.
Nabila is the one you call when there's a problem. She takes ownership of issues reported and sees them through to resolution. She's a force to be reckoned with, taking pride in her role and committing to doing everything she can to ensure that clients receive the support they need. Whether she's working on a complex issue or providing guidance to a colleague, Nabila is always focused on delivering results.
As a woman in tech, Nabila has faced her fair share of challenges. But she hasn't let those obstacles stop her from achieving her goals. Instead, she has used those experiences to become even more determined to succeed. She is a true trailblazer, breaking barriers and setting an example for women in tech everywhere.
Here is her story.
#1 How did you get started in the Tech Industry?
I had always been interested in the tech industry, but it wasn't until after completing my Bachelor of Mechanical Engineering (Hons) in September 2015 that I decided to make the switch. I began my career at Celcom Axiata Berhad as part of their Engineering PMO team, and while I enjoyed my time there, I couldn't help but feel that I would be better suited to an environment with a culture that aligned more closely with my character.
As time passed, I became increasingly certain that I needed more challenges in my day-to-day functions in order to develop my skills and abilities. That's when I made the decision to switch my career to the tech industry. I was nervous about taking this leap, but I knew it was the right decision for me.
After resigning from my position at Celcom Axiata Berhad, I began searching for a new role in the tech industry. I applied to various companies and was thrilled when I landed a position at my current company. Since then, I have been able to immerse myself in the tech industry and gain valuable experience that I would not have had the opportunity to gain otherwise.
I know that switching careers can be a daunting process, but I want to encourage anyone who is considering making the switch to the tech industry to take the leap. If you're looking for an environment that will challenge you and allow you to develop your skills and abilities, the tech industry is an excellent choice. Don't be afraid to take a chance and pursue your dreams.
#2 What kind of challenge(s) have you faced throughout your career journey?
The initial breakthrough was the toughest part of my transition to the tech industry. As a Mechanical Engineering graduate, I had a solid foundation in calculus, but I was not equipped with the coding skills needed for the tech industry. I didn't even know a single line of code when I first started, but I was determined to increase my knowledge and understanding of cybersecurity.
I was fortunate to be assigned to a team that supported me from Zero-me to Shero-me. While it was intimidating to feel unprepared, I trusted myself to do the work, learn on the job, and figure it out. Having a great mentor also helped me develop the skills I needed to succeed.
The pace of change in the tech industry is rapid, and it can be challenging to keep up with the evolution. However, my enthusiasm to become competent and skilled in my new role keeps me motivated. I know that I still have much to learn, but I'm excited to continue growing my skills and contributing to the industry.
#3 What is the interesting part you found in the Tech Industry?
The tech industry is one that will always emerge. It offers a lot, including numerous job opportunities, competitive salaries, work-life balance, and more. Working in this industry is incredibly satisfying, as you're assisting people and creating solutions to help them do their jobs as efficiently as possible. Learning about the trends that technology is taking in order to work more efficiently and see progress and success is enjoyable.
One of the things I love about working in the tech industry is seeing the big picture mapped out for technology needs. It's inspiring to see how technology can be used to improve people's lives and make their jobs easier. This is a dynamic and constantly evolving industry, so it's important to stay up to date with the latest developments and trends. With the right skills, passion, and dedication, anyone can succeed and make a positive impact in this exciting field.
#4 How do you manage your career and family?
A year after I'm in the industry, I got married to my forever-ally and we are blessed with a daughter. Balancing a career and family can be a challenge for many people, but having the right support system can make all the difference. While it's important to be self-reliant, having a team of people who are there to help and encourage you through life's ups and downs is essential to maintaining your overall well-being.
I want to give a big shoutout to my husband, Alif Aufa Anuar, for being my biggest teammate and biggest support. When things get overwhelming, he's always there to help me navigate through it all. And when I feel like I'm too deep into work, I make a conscious effort to cut something out or take a day off every now and then to make time for my family. Of course, there are times when unexpected work requests come in, but we always try to find quick ways to connect with our daughter throughout the day.
At the end of the day, I've learned that prioritising family time and carving out time for self-care is crucial to staying balanced and fulfilled. Having the right support system and taking breaks when needed can help alleviate stress and prevent burnout in both personal and professional settings.
#5 What is your advice to fellow working moms?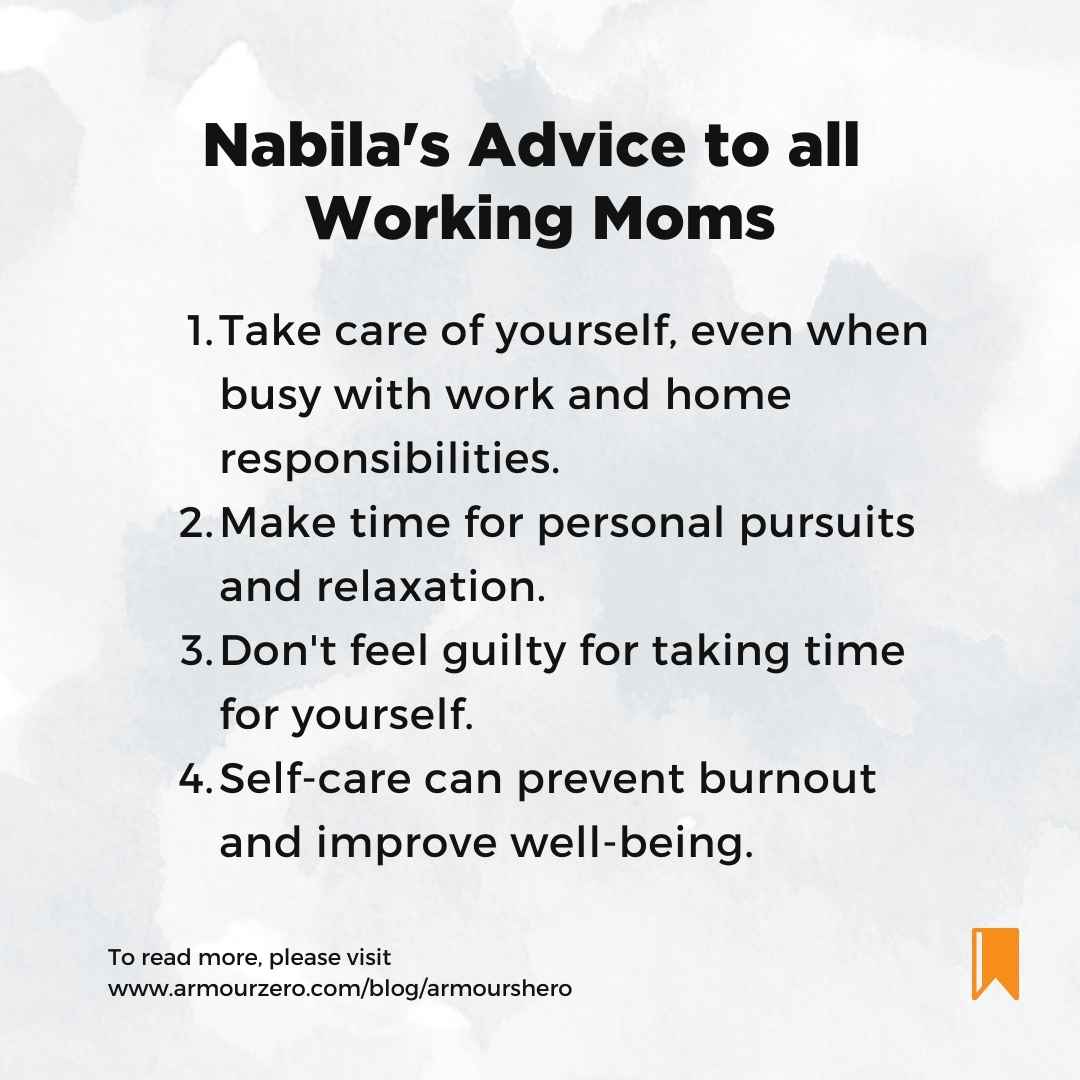 It's important to remember to take care of yourself and not lose sight of who you are, even when you're busy fulfilling responsibilities at work and at home. It's easy to get caught up in our roles and forget to make time for personal pursuits or just take a break. However, it's essential to maintain a healthy balance and not lose yourself in the process.
Don't hesitate to prioritise your well-being by finding activities that bring you happiness and fulfilment beyond your professional and personal duties. Taking time for self-care is not something to feel guilty about, and it can prevent burnout and positively impact your overall well-being.
#6 What can women do to overcome the challenges in this industry?
The tech industry is primarily dominated by men. As a result, women are less likely to enter this industry, since it has too many men.
When I started working in the tech industry, I only had two female colleagues on my team. For this reason, I believe that there are not many women who could be role models in this industry.
Looking back on my college years, I recall being one of only four women in a class of thirty students. But that didn't deter me from pursuing my goals. To others working in a similar field, my advice would be to not let fear hold you back from stretching yourself. 
Many of us have passed on an opportunity if we didn't meet all of the required skills. Just go for it. Become fearless in your career aspirations. Apply if you meet many of the skills. While it can be scary to feel unprepared, trust yourself to do the work, learn on the job and figure it out. While it may not be exactly what you envisioned, every experience is a chance to grow and learn.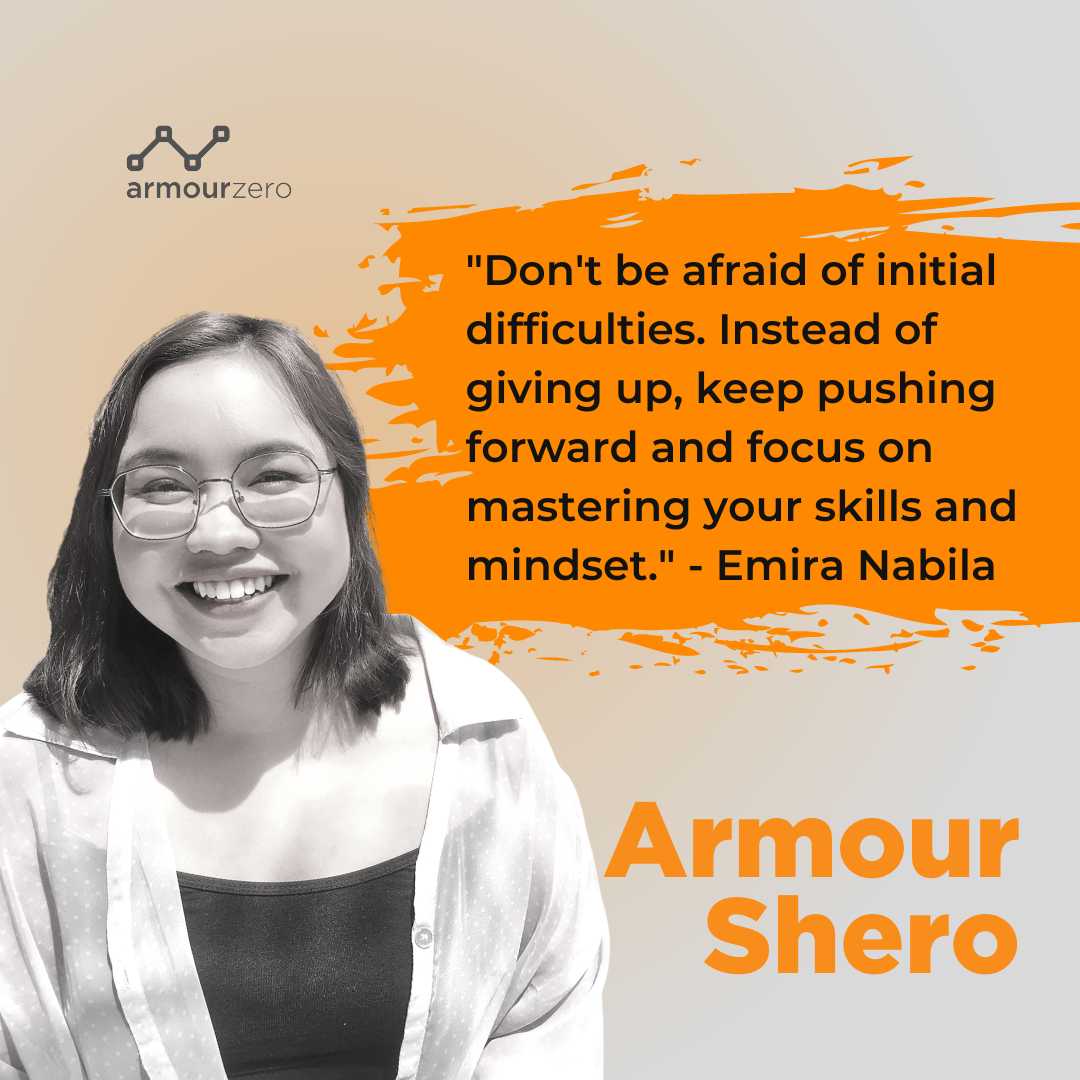 Share this post
Related Posts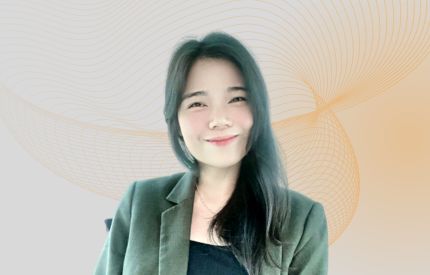 02 Oct 2023
By:Bernadetta Septarini
Category: ArmourShero
Queenie Liew, Solution Consultant Engineer at CSP Global Technologies, shares her passion and journey as a cybersecurity shero in the tech industry.