Beh Swan Swan is the Chief Information Officer at Magnum Corporation, which is the first legal lottery operator in Malaysia, the company she worked for 34 years.
Swan Swan was awarded the "2017 CIO Excellence Award" from PIKOM for her leadership role in the Malaysian IT Industry.  She was also awarded the ASEAN CIO Award 2013 by IDG (International Data Group) ASEAN to be one of the most outstanding CIOs in the ASEAN region at the 2013 CIO/CSO Summit held in Ho Chi Minh, Vietnam.
Swan Swan has participated in the CXO Leadership Exchange Programme held at INSEAD Singapore in 2019, where 30 out of 300 Technology leaders in the Asia Pacific region were shortlisted to attend. 
This Penang-born powerful lady has been in the Tech Industry for more than 40 years, she has witnessed several revolutions in information and communication technology.
Here is Swan Swan's interesting story.
#1 How did you start your journey in the Tech Industry?
I went to Monash University, Australia in 1977, I was facing two choices between Computer Science and Genetics Engineering. But my pragmatic side told me that I would not be able to secure a job easily if I chose Genetics Engineering, so I ended up with Computer Science. Upon graduation, I landed myself a job with an Australian firm but unfortunately, our Malaysian Government wanted us back so I could not convert my student visa. 
When I got home, I joined an IT Company, Unidata Sdn Bhd, started as an Analyst Programmer and worked my way up to become a Software Manager. I was their first female Manager, and I spent 7 years there. My next journey started when I joined Magnum Corporation as they were embarking on their Computerisation exercise. It was my first time experiencing the positive business impact of computerisation and how Magnum made the right decision to embark on it in 1988; we were the 1st Lottery Operator to do so in Malaysia.
Magnum was then part of the Multi-Purpose Holdings Group and I was involved in helping out the other business units like Bandaraya Development, Multi-Purpose Bank, Multi-Purpose Insurance, Multi-Purpose Capital Holdings, etc. Fast forward 30 years plus and after many rounds of business reorganisation,  I am now very focused back on Magnum Corporation's lottery business.
#2 What is your day-to-day life in the Tech Industry?
I keep abreast of technologies, security, and our industry news. Then, I will spend my time to mentor and coach my teams, so they can align better with company goals. I also meet business users regularly to understand their strategy and find ways to enable them to achieve their goals.
There were occasions when I faced challenges when tasked to lead in non-technical roles and having no clue what to expect, and learning the hard way. So, I overcame it by eating humble pie to learn from the subject-matter experts.
Along my journey in this industry, I must say I do sometimes forget to 'think of the customer first' – we techies love to solve problems without realising the impact on our customers and that is something I need to constantly remind our Tech team. But, there is something that I regret in my career journey, which is that I should have been more adventurous to venture outside Malaysia to work.
#3 What is the most interesting part of your IT journey?
I have been in the IT industry for about 4 decades, it is long enough to experience the inverse change. From storage size vs storage capacity, and the use of punch cards to touch screens, from Z80 to 4GL, OO, Java Scripts, C sharp, Flash, XML, .Net, from host-based to distributed processing. Smart Computing, RDBMs, Middleware, Internet, Intranet, X.25, TCP/IP, Wireless, Mobile Computing, and the list goes on.
Now all you need is in the Cloud and then there's BIG DATA, BYOD, but SECURITY still remains a major concern in every deployment and IT Professionals must always be aware of it! 
And now I'm part of the organisation's transformation team to help the organisation become more innovative, efficient, agile, digital and data-driven, all with the view to put customers in the centre of why we exist in the first place.
To sum it all up, what I do has no dull moments; technology is rapidly changing and keeps us all on our toes all the time.
#4 As a working mom, how do you manage your career and family? 
This is a tough question. You need a good extended family support system when your children are still young. You also need to work with your spouse on sharing the responsibilities. Then you can work with peace of mind that their daily needs are being taken care of.
You need to be very clear when you want to go all out for your career or when you want to take a step back to manage your family. It's a matter of what sacrifices you are willing to make at a certain point in your life. 
#5 What is your advice on being a female leader to a fellow female leader? 
You have to apply different management techniques to handle different types of colleagues, regardless if they are male or female. 

Whatever women do, they must do twice as well as men to be thought half as good; and luckily this is not difficult.

Do not worry about putting in hard work, overcome fear, and be heard; if you have good suggestions. It's alright if your ideas are not accepted, but at least you are then viewed as someone who can think and contribute, and after some time you will become more relevant.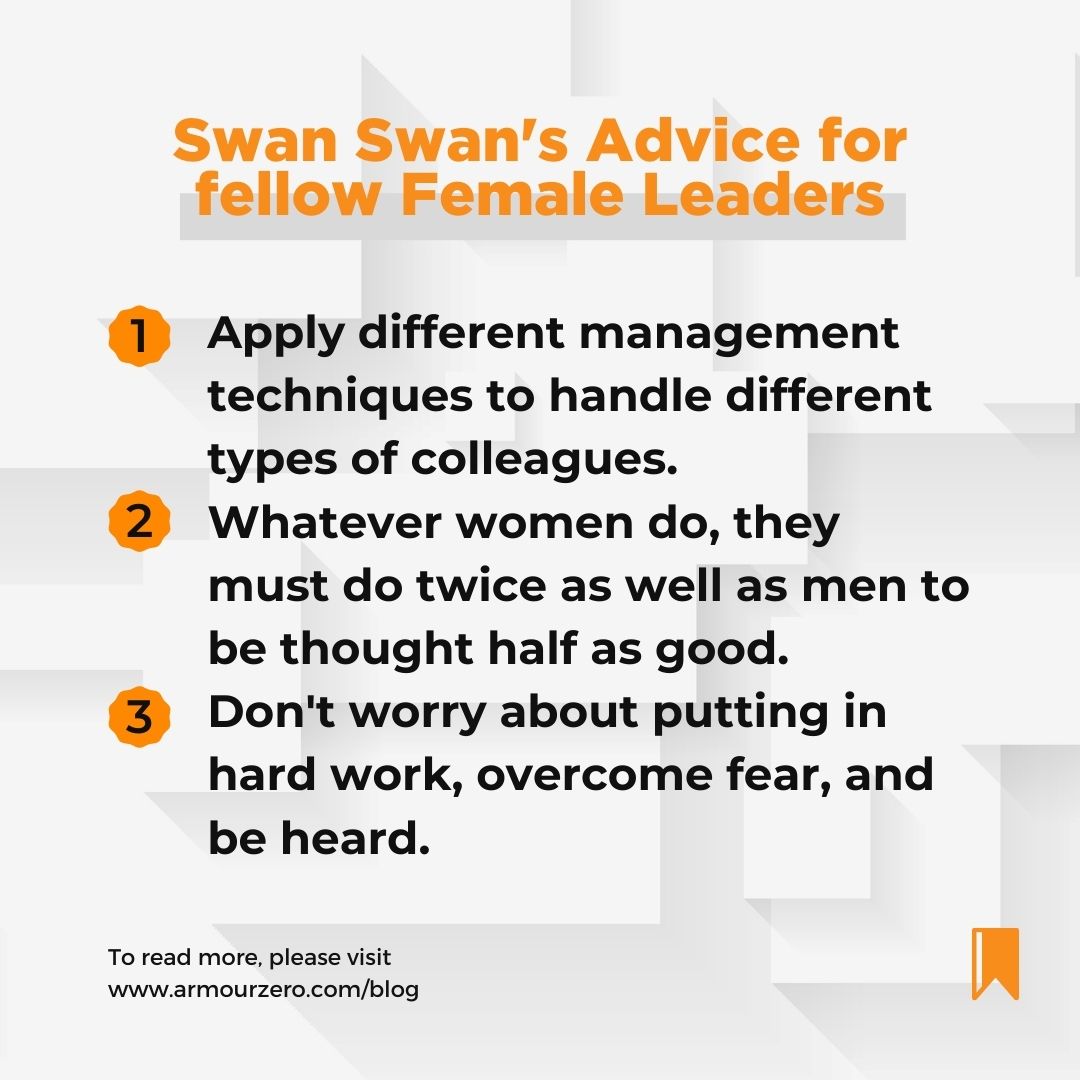 #6 What do you think about the cybersecurity industry?
When we want to manage cybersecurity, we need to put people, processes, and technology in place. Getting certified on the ISO27001 standards will force you to be disciplined to craft the right policies and best practices to govern the organisation's information assets. 
For the public, sometimes being suspicious is better than being gullible. We need to deep dive more into cybersecurity, because there are so many kinds of attacks and solutions. Never underestimate cybersecurity, because we'll never know when we'll get hacked.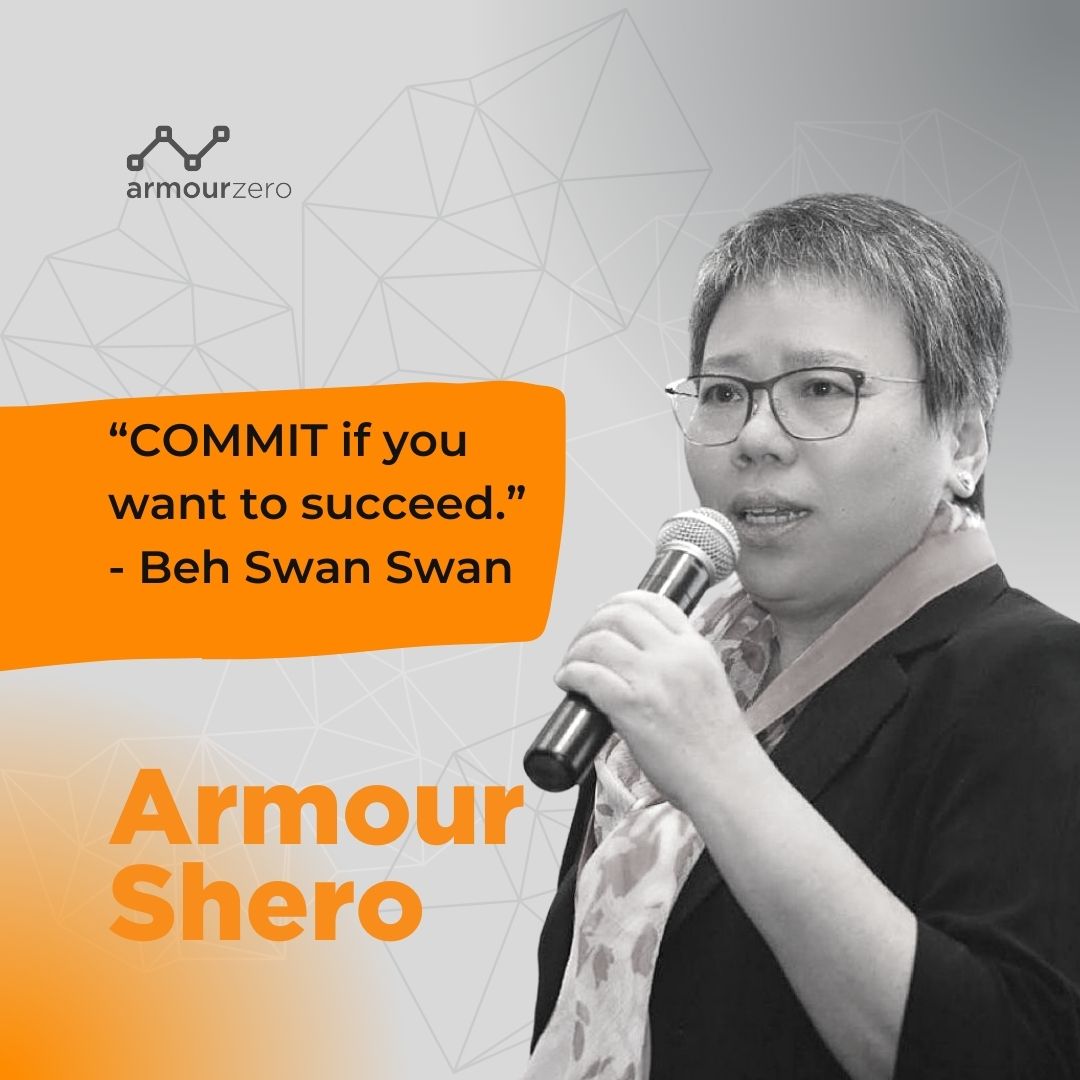 Share this post
Related Posts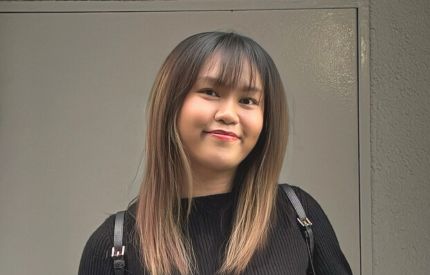 28 Nov 2023
By:Bernadetta Septarini
Category: ArmourShero
Nabila Hishamuddin, Customer Support Team Lead at Respond.io, shares her journey and spirit of a tech shero while spearheading exceptional customer support.