Frastika Geovani or Tika never thought that she could be the way she is today. A Digital Marketing Lead at Ruangguru, as well as becoming a Digital Marketing Educator/Lead Instructor at RevoU. Both are the most famous EdTech in Indonesia, and she managed her journey to these steps.
She was once a Cum Laude graduate from Institut Teknologi Bandung, one of the reputable universities in Indonesia, and she was focusing on Interior design. She was pretty active in college and became a Lecturer assistant, back then. Furthermore, she also joined an exchange program at Syracuse University and learned how to build a startup.
After working in several industries, our super mom shero is now managing her career in Digital Marketing in the EdTech Industry. Let's see her journey in this industry.
#1 Why Did You Choose to Work in The Tech Industry?
It started when I participated in a startup exchange between ITB and Syracuse University, in the United States. The program was a bootcamp about how to build startups and make them grow. From there, I felt more excited about working in a startup environment than in interior design. 
So after I graduated, I tried to work with my uncle at a digital agency. At first, I thought about continuing to work as a designer, but then I feel uncomfortable because graphic designers have a lot of constant revisions. Actually, I'm a person who enjoys discussing and generating ideas more than crafting and designing.
After some consideration, I bravely resign from the design industry, even though I'm a bit depressed about this decision. So, I took a course to learn about UI/UX, still related to the design industry but more to the startup world. I then got an internship offer at a startup as a UI/UX but turns out that I don't really enjoy this role. 
Later, one of my old friends gave me some offers for a community manager, and it turns out that I quite enjoy this role. But, unfortunately, I chose to resign because I wanted to get married. Get another community offer at another startup and get a job at Moka, a B2B company that provides payment services for MSMEs. 
There is a unique story where I got to know one of the people in the Digital Marketing division who is incredible, he can do many things at the same time. I frequently have discussions with him, because I am curious about what he did. Then out of nowhere, my VP also challenged me to explore a digital marketing position, but I must start again from probation.
I think this is a good chance for me to grow my talent, so I took the challenge and immediately learned a lot of new things from my Head, which is quite hard to learn. My Head saw my potential in Facebook Ads, and they trusted me, so then he promoted me to become a Digital Marketing Lead in my first year of joining the Digital Marketing field.
After that, I took maternity leave, but unfortunately, I wasn't prepared enough to be a working mom, since this was my first time as a mother. So, I become overwhelmed by it, and I choose to resign.
It took some moments for me to prepare myself. After everything had settled, I was trying to find another job. There is another fun story, I got an invitation to interview directly at their office on Wednesday. After arriving at the office, I was immediately asked to join the HR interview and then the user interview. When I'm returning home, they asked me for an interview with their VP who is currently in another country. I did the interview in a café with google meet. Then after a day I straightaway got the news that I was accepted and given an offer as the Digital Marketing Specialist. I joined the company next Monday, 5 days after the interviews.
My friends in Ruangguru are patient enough to help me improve, so I enjoy working here and improving my skills. Finally, in 2020 there is a pandemic, and my office is adjusted to remote work. I need to adapt again to working remotely because I'm used to working at the office. 
With a lot of improvement and efforts, in 2021 I was entrusted as Digital Marketing lead.
#2 What Do You Love About Being a Digital Marketing Educator?
I initially had the principle to "always love what you do", even though the work was hard, I should still be grateful and live it. But now that I feel comfortable in digital marketing and I can also provide education for people who need it, I have changed my principle to "It's better to do what you love."
There are many challenges that I face in this position, and that makes me even more challenged to prove my abilities. I've had a hacker attack from Russia because I haven't enabled two-factor authentication. As a result, the brand that I handled the ads, suffered a loss of big spending, but luckily Meta's team was willing to return the money.
Being in this industry is indeed a lot of challenges related to money and the self-esteem of a brand. The longer I've been in this industry, the more experiences and lessons I can take, and now I'm sharing this with my students.
#3 Which Industry Do You Find The Most Challenging?
I have worked in a digital agency, architecture, the creative industry, the B2B industry, and now in EdTech. First of all, B2B is not my type, because finding out if the strategy I gave is good, takes time and a long process, whereas I am the type of person who gets bored easily and likes challenges.
I prefer to see day-to-day revenue, and progress every day, so I feel that working in B2C is more fun. Now I'm also freelance in healthcare to help my friend's business, and I'm learning a lot about this industry.
#4 How Do You Manage Your Time as You've Various Activities?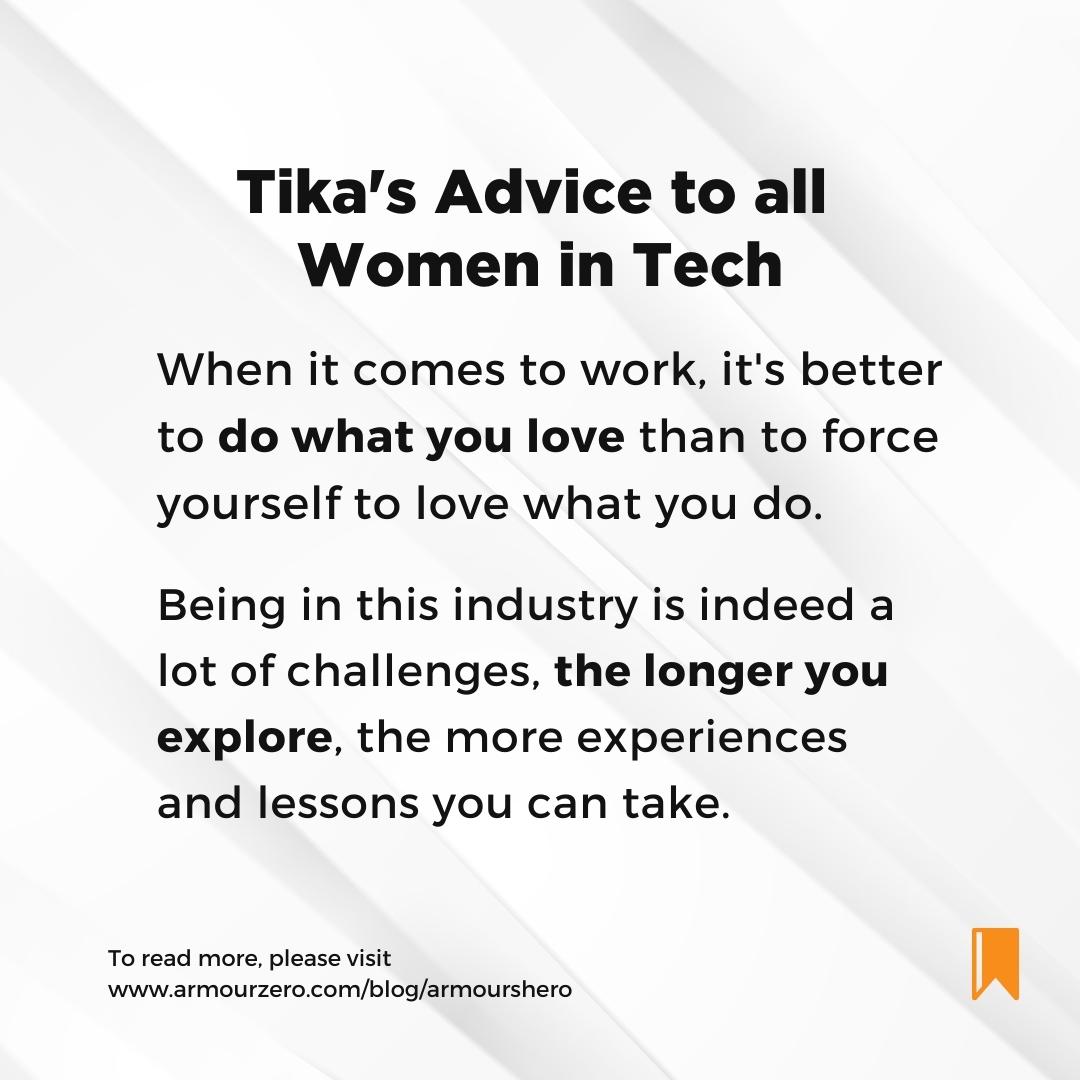 Actually, I don't have good enough time management. But all this time, I kept trying to meet the deadlines of my existing jobs. From 9 am to 5 pm, I will focus on my main job at Ruangguru.
Outside working hours (9-5) I have meetings with freelance clients. And after 7 pm, I frequently fill it with teaching at RevoU until 9 pm. Only then can I spend time with my family.
Luckily, I have a husband as my biggest support system to collaborate in building a life together. Even though I am working from home, I rarely cook, and when I have free time I choose to exercise with my family so that I can live a healthy life.
But there are some bad sides that I feel, such as sometimes lack of time to sleep, and poor communication with children. Because I'm too busy working, sometimes I forget to chat with my kid like a mother and daughter. Indeed, it is better to be able to manage time at work and also with family, so that the two are balanced. Until now, I'm also still learning to be a good mother & wife.
#5 What Makes You Not Insecure and Able to Make it a Success?
I'm trying to prove that I am indeed competent in this digital marketing field. At first, I was just a person who wanted to learn about digital marketing as well as work in this field. Then I tried to take the official course of the Meta Blueprint starting from the basic level to the advanced level, and in 2022 I finally became a Meta Media Buying Professional Certified.
During this journey, I had time to share my knowledge with many small business owners who needed help learning digital marketing. From here, my digital marketing knowledge has also increased.
I used to believe, when we really learn from the beginning, try it by ourselves, and explore knowledge at a more advanced level until we can share it with others, we can understand the whole theory more correctly.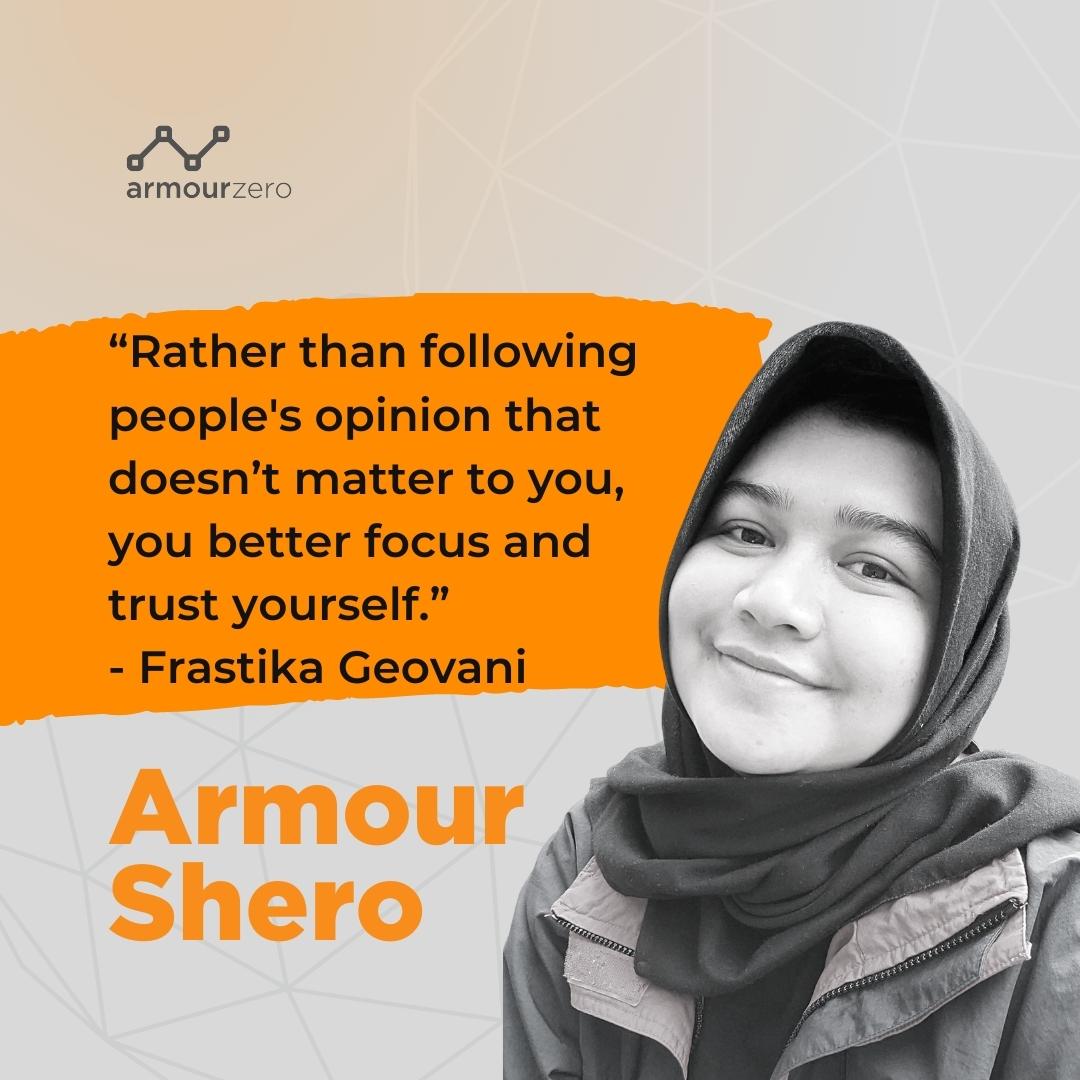 Share this post
Related Posts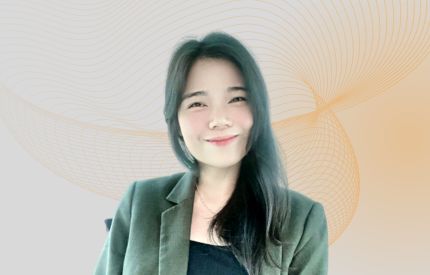 02 Oct 2023
By:Bernadetta Septarini
Category: ArmourShero
Queenie Liew, Solution Consultant Engineer at CSP Global Technologies, shares her passion and journey as a cybersecurity shero in the tech industry.