Irene Bergosa is the Senior Internet Marketing Lead at Tokopedia, a Decacorn e-commerce company in Indonesia. She leads the whole Internet Marketing team to handle strategy and day-to-day operations for all Tokopedia businesses and has been working there for 3.5 years.
Prior to her current job, Irene has worked for 4.5 years in the field of digital marketing, serving companies like Wavemaker, Maxus Digital, and Group M.
Irene loves teaching and sharing, so aside from her main job, she volunteers to teach at 'Rumah Belajar Senin'. She is also a teacher of Digital Marketing at RevoU.
Her principle is fulfilling her life to get a place to share her journey. Here is her journey in the Tech Industry.
#1 How did you get started in the Tech Industry?
I studied communication and media management at the University of South Australia. As a foreign student, I actively joined a few international student organisations. I remember at one of the seminars I attended, there was a speaker who was the CEO of a media agency. I found it very interesting and from there I began to find out more about the industry.
My first job was as a media planner at OMD (Omnicom Media Group). I mostly worked on media plans for TV channels, and there was a limitation to learning more about digital advertising. By chance, I got an opportunity to join the Management Trainee Program at GroupM, and followed a 4.5 years journey in the digital agency under GroupM. Until that time, I never thought about having a career in the Tech Industry.
I foresee our future world will be undeniably digital, so I decided to jump into the Tech Industry by joining a startup company, Tokopedia. I started as a Senior Digital Strategist, and after 1 year I was promoted to Internet Marketing Lead to lead 1 team to focus on strategy in-app and out-app (paid and organic CRM). My team was expanded after 2 years, and thankfully I was then promoted with a bigger responsibility to hold three teams (Marketplace, Hyperlocal, and Awareness).
Until now, I'm still learning at Tokopedia and grateful for all the opportunities given to develop my potential.
#2 What is your day-to-day life in the Tech Industry?
Every day is a new challenge for me, so I never get bored at all. The company is growing and developing very fast. The challenge for me is to keep pace with the company's development, especially when Tokopedia has become one of the largest e-commerce players in Indonesia.
Obviously, my day-to-day life in a startup company is very different compared to agency life. In the agency, I just help clients to do their media planning, but now I'm here to help companies to grow. I have to learn to understand the seller, discuss with the business unit, product development and connect with other teams. I also witnessed the daily development in Tokopedia.
The Tech Industry is known for its kind of data and what impact it could give on the world. Our effort at work will be seen from how much data is collected, and how is the evaluation for every action. When it comes to Tokopedia, the fast-moving company, our product development is very advanced and that makes me excited to grow with the company.
It's indeed a beautiful career journey. I learn so many things, and if you are a driven person, you will really like it.
#3 What kind of challenge(s) have you faced throughout your career journey?
The digital world is an exciting place that continues to grow and never stops changing. Sometimes I would like to slow down, but I can't as the changes itself are very fast because the platform is always on 24/7. We can't be stagnant, and we need to understand the market and connect with our clients in new ways. So I always have to work harder and keep up with the pace.
Our team is getting bigger and smarter every day. Handling a lot of people makes my job harder, but being productive is fun because I get to learn to work strategically and look at the bigger picture. 
We always have challenges, but we try to maintain work-life harmony by setting schedules with family and ourself, so we don't burn out.
#4 What do you see as a woman in the Tech Industry?
The Tech Industry is not just about engineers, but it's more about what we can give and what we are most capable of. I believe that women can also work and even lead this industry, as this industry needs both women's and men's perspectives to achieve its success.
This industry is the current industry trend, and will always continue to grow in the future. It's never too late to start your journey now. If you really want to learn, it's not that hard, but you should push yourself harder. 
#5 What can women do to overcome the challenges faced in the industry?
First, prioritise yourself and your family by managing your time well.

Don't make a decision quickly. Think thoroughly and calculate how big the impact is. 

Look for something fulfilling, of course, it will be tiring, but at least it will give yourself more value. 

Work in harmony, you could be a manager, a friend, a coach, a wife, a mother, and a teacher at the same time, but you need to find the balance of all. 

Last, don't be someone else and always understand your capability. If you can't do it, just say that you can't.
That's what I need to do for myself and my family, too. Even though I love my job and all those kinds of hustle, my family is my first priority. Because we need to have a balance between personal and professional matters.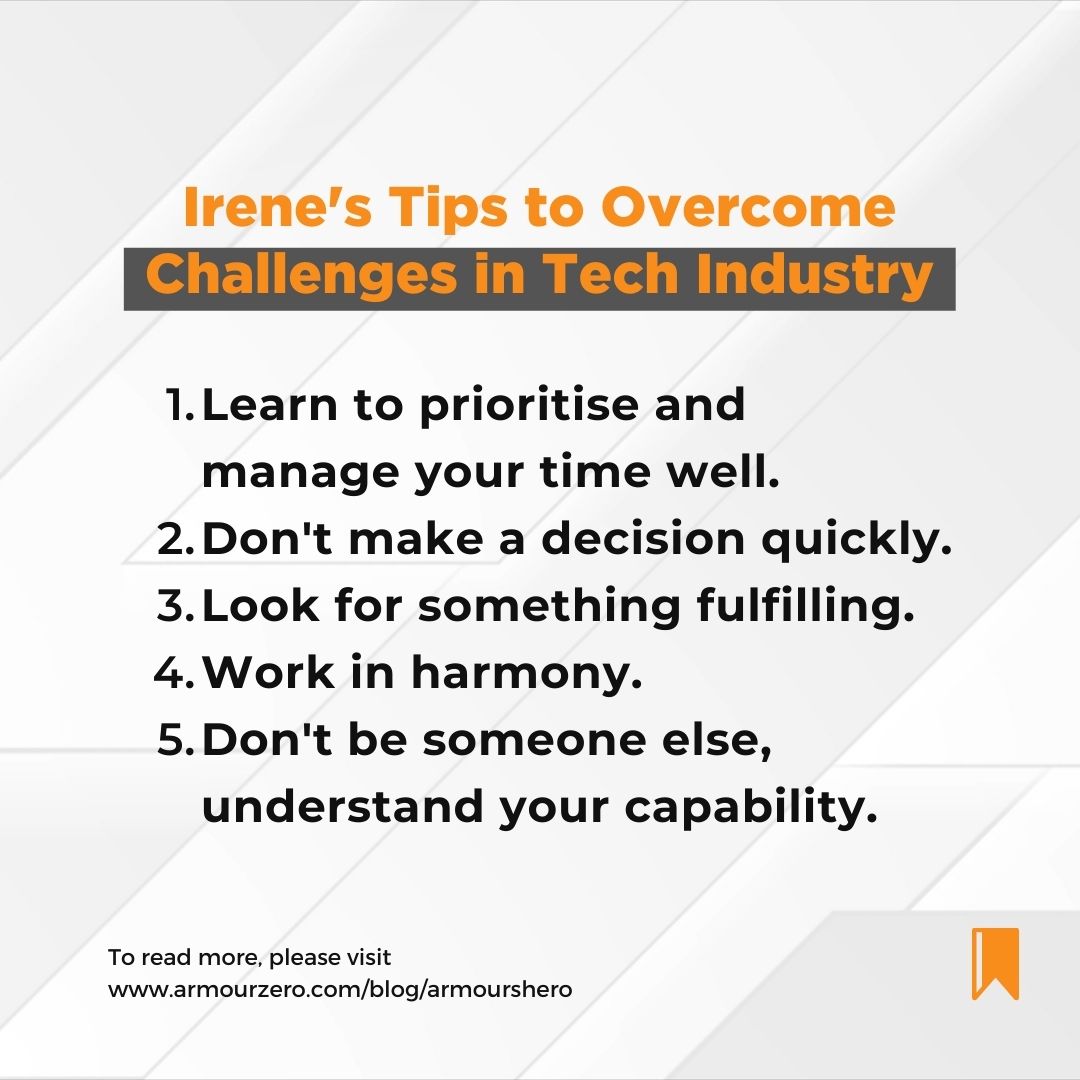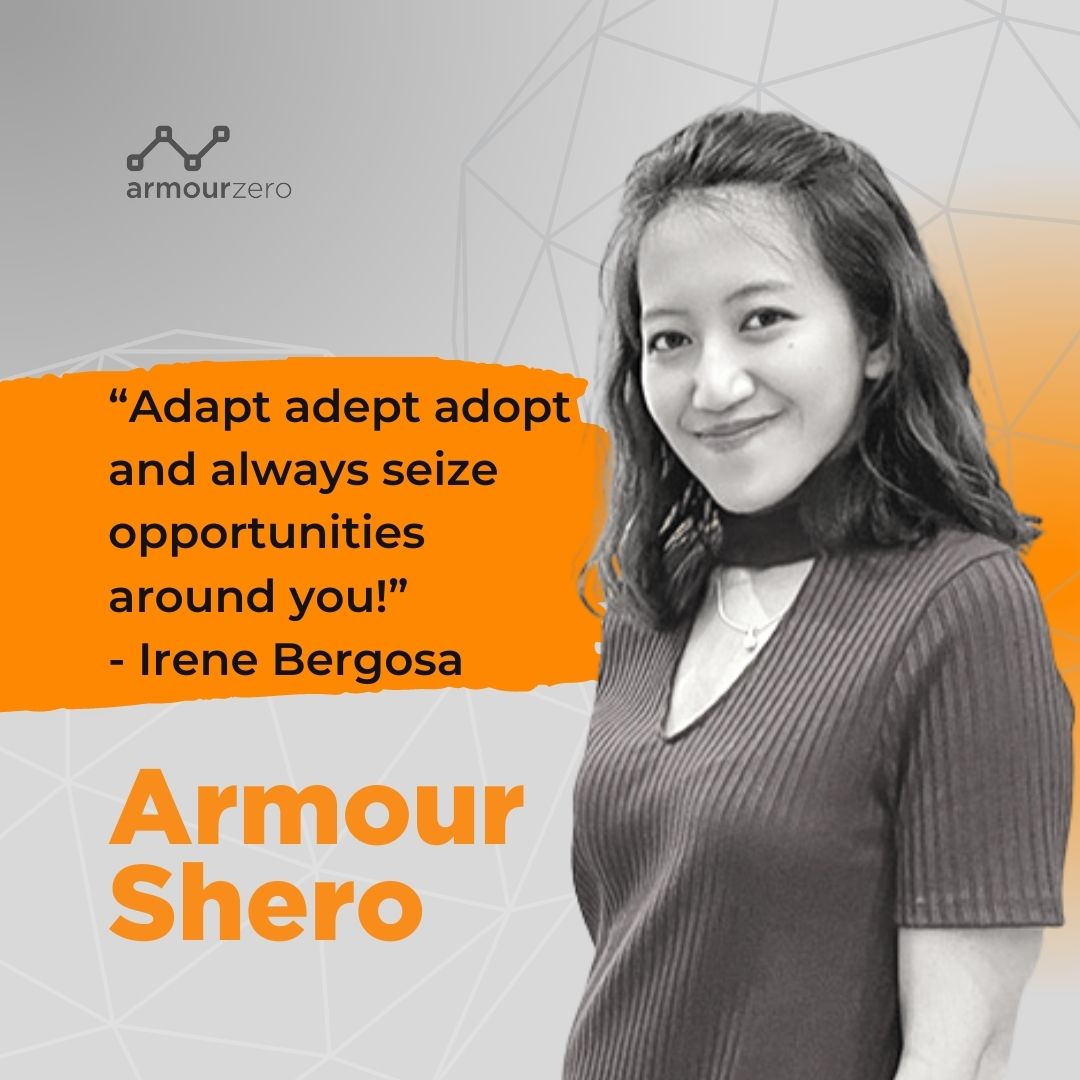 Share this post
Related Posts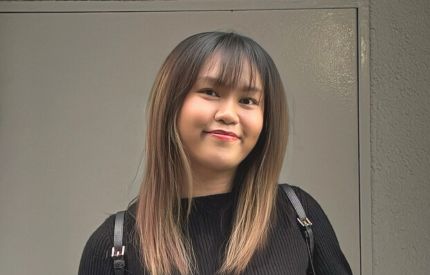 28 Nov 2023
By:Bernadetta Septarini
Category: ArmourShero
Nabila Hishamuddin, Customer Support Team Lead at Respond.io, shares her journey and spirit of a tech shero while spearheading exceptional customer support.