Surya Islami is the Campaign Delivery Lead at the Clozette Group where she manages various projects for markets in Malaysia, Singapore, and Philippines. Her current project involves leading digital and all deliverables campaigns for an independent administrative institution from the Japanese government. In addition, she also spends her spare time as a digital marketing instructor teaching advanced and orientation classes at RevoU.
Surya never imagined herself as she is now, a digital marketing professional. Born and raised in a small village in Tulungagung, East Java Province, Indonesia, her first experience with the internet was during her secondary school days, as her father was an IT teacher.
She graduated from Universitas Padjajaran in Bandung and during that time she was chosen as one of the representatives from her university to study for a 6 months curriculum abroad at Universiti Putra Malaysia. Her major and focus was Communication Study & Journalism but after finishing her undergraduate in 2017, she embarked on a journey as a woman in tech.
Here is her story.
#1 How did you get started in the tech industry?
I believe it was a combination of opportunities and my readiness to enter this industry that led me to where I am today. Back in 2017, digital journalism was not common as today. Although I learned about journalism, our understanding of new media was limited to the surface level. We never considered aspects like SEO (Search Engine Optimization), data tracking, or CMS (Content Management Service). 
However, I had a chance to explore more about new digital media products when I wrote my final assignment. We conducted interviews with various parties, from the first wave of KOLs to big companies like Google Indonesia. This opportunity led me to an R&D internship at Kompas, the largest media company in Indonesia. It was my first time learning Google Analytics and this experience opened my eyes to the fact that media is not just about writing news content.
Since my internship experience was super fun, I decided to pursue my career in the digital industry. After graduating from university, I worked as a Keyword Researcher at JD.ID, a subsidiary of China's JD.com, an e-commerce platform that provides delivery services. Through this experience, I realised that research, experimentation, and data were always my passions, and that this career path fulfilled my values and interests
#2 Have you ever thought of changing a career path?
Yes. The COVID-19 pandemic has a significant impact on many industries, including layoffs. I was also impacted by this when I was at iPrice Malaysia. However, even before the retrenchment occurred, I had begun feeling unmotivated and realised that the career path at the company would be challenging, despite my love for the company's culture. As a result, I found myself conflicted and considering a return to the media industry.
During the lockdown in Malaysia, I spent a lot of time reflecting on my future career. Nonetheless, I am the type of person who makes decisions based on my own life value. After considering many aspects, I think digital marketing has always been the right path for me as it aligns with my values and interests in logical thinking, data, research, experimentation, and numbers.
#3 How is your day-to-day life as you work in the tech industry?
As a professional in the tech industry, I find monitoring data and conducting research to be particularly fulfilling on a daily basis. Since I can't work on many things at the same time, I use a timeboxing technique to allocate a unit of time to an activity.
In the morning, I set aside at least 30 minutes to stay informed of industry updates, review emails, and ensure data aligns with our progress timeline. The majority of my time is spent in meetings and conference calls with my teams and clients, as well as reporting on progress. 
The Market in Malaysia is currently relatively small and as a resident, I also have the opportunity to meet with clients in person. This adds an enjoyable dynamic to my job, as each client requires unique approaches. Overall, I enjoy working in this industry as it aligns with my personal values.
#4 Do you think it is important to work according to our passion?
Definitely, my passion lies in researching, experimenting, and trying new things. Even in my personal life, I enjoy experimenting with different things such as trying new food, cafes, and hobbies. I believe that this helps to keep me motivated. I think understanding life values is important in order to achieve my fulfilment in life.
Currently, I have identified 6 life values that are important to me: Freedom, Generosity, Self-care, Creativity, Curiosity, and Assertiveness. Generosity is important to me as I enjoy sharing with others, both material and knowledge. This is why I was excited when offered the opportunity to be an instructor at RevoU. 
Self-care for me is important too as it allows me to take care of myself physically and mentally. For assertiveness,particularly in the tech industry as it is still largely dominated by men,  it is necessary to be assertive in order to gain respect and recognition. I always refer back to these 6 values whenever I am making a decision in my life to keep me feeling motivated.
#5 What kind of challenge(s) have you faced throughout your career journey?
My biggest challenge is being assertive at work. Initially, I believed that my lack of communication skills was the root cause of receiving harsh feedback from my colleagues. However, after implementing different approaches to communicate my thoughts and ideas, such as through a big forum or one-on-one conversations, I still felt that my contributions were not being recognized or respected.
But after some time, I then realised that my Javanese background, which emphasises "legowo" (the act of accepting whatever happens with open heart) was too dominant and did not fit with the working environment. As a Javanese, I was taught to not express my wants or needs directly, as it is considered impolite. However, this attitude doesn't align with the culture of the tech industry. 
Therefore, my advice for those who aspire to work in this industry and in overseas companies is to be vocal about your accomplishments and let others know about the hard work you have put in to earn recognition from other departments. It is also important to be direct when discussing your career aspirations, such as expressing interest in a different role or becoming a team lead, with your supervisor. There is no need to beat around the bush, just be clear and express what's on your mind.
#6 Who would you want to thank and appreciate for helping your career develop?
I have three groups that I'd like to express my gratitude:
My parents.

They have always instilled in me the importance of being competitive and set high educational goals for me throughout my schooling.

Their support and guidance helped me to push my limits and provided me with an environment that supported my studies.

My friends. Thanks to my parents, I was able to attend good schools and make friends who helped me to gain more opportunities and pursue specific skills or careers. For example, I have a high school friend who works for one of the largest multinational audit companies, and their success inspired me to pursue my own goals. 
My partner. He has been a constant support for me, especially during times when I was feeling low and considering a change in my career path. He is always supportive and ready to be my safety net, and never belittles my decisions even though he has more experience in the tech industry. 
#7 What is your advice for other women to overcome the challenges they face in the industry?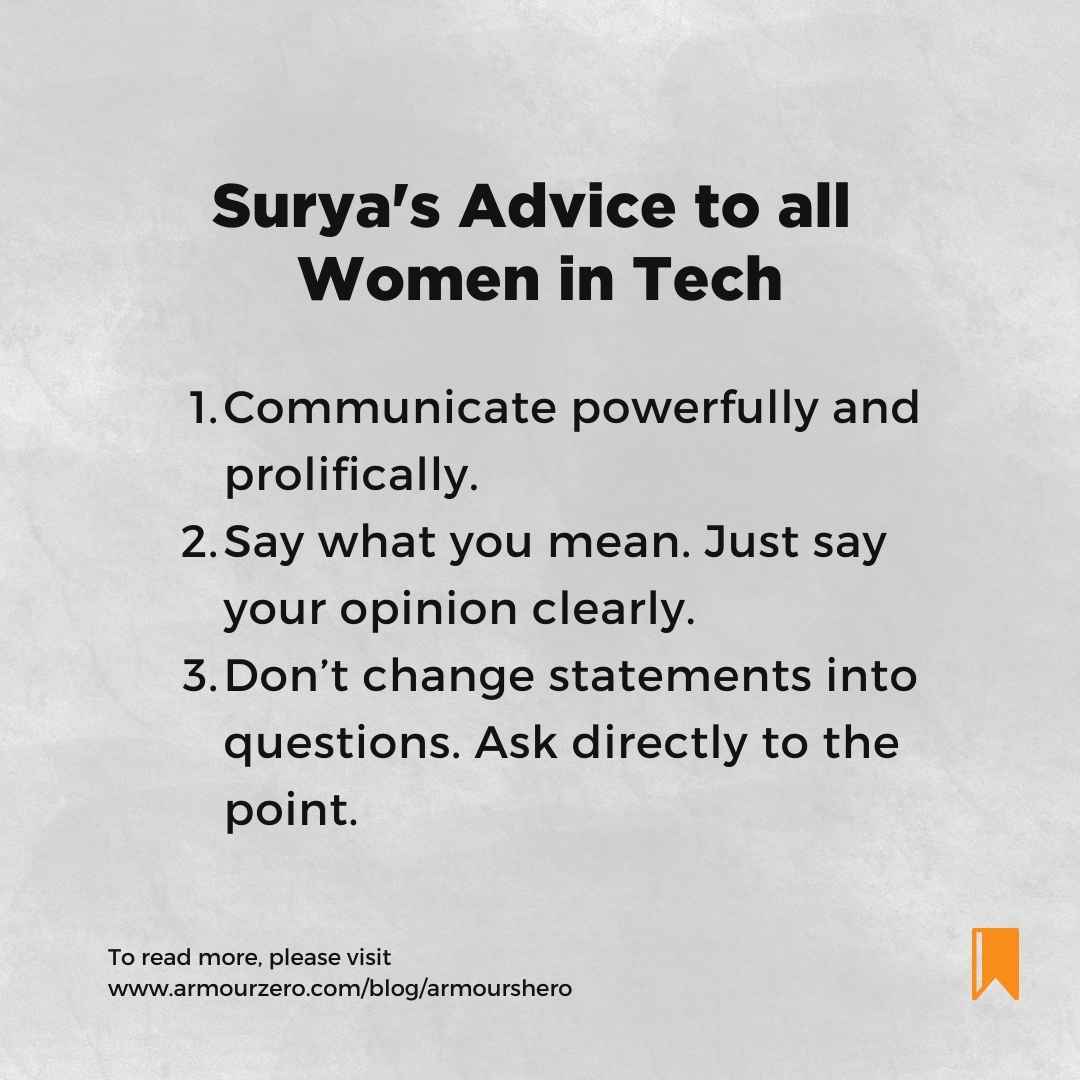 I think these advices also relate to my career journey challenges:
Communicate powerfully and prolifically. 

Say what you mean. Just say your opinion clearly.

Don't change statements into questions. Ask directly to the point.
#8 What is your advice for those who want to work professionally outside their home country?
Languages. It's crucial to success in the tech industry, particularly fluency in English. However, being fluent in other languages can also be beneficial. In my experience, it is often necessary to communicate with locals and individuals from other countries in their native language.
Utilise job portals such as Google Jobs or LinkedIn Jobs. These platforms offer advanced filters such as remote, hybrid, or entry- to medium-level positions.
Lastly, find out your strength and be confident with it. It is important to identify your strengths and be confident in them when seeking employment. Be able to convey to potential employers why you, as a foreigner, are the best candidate for the job.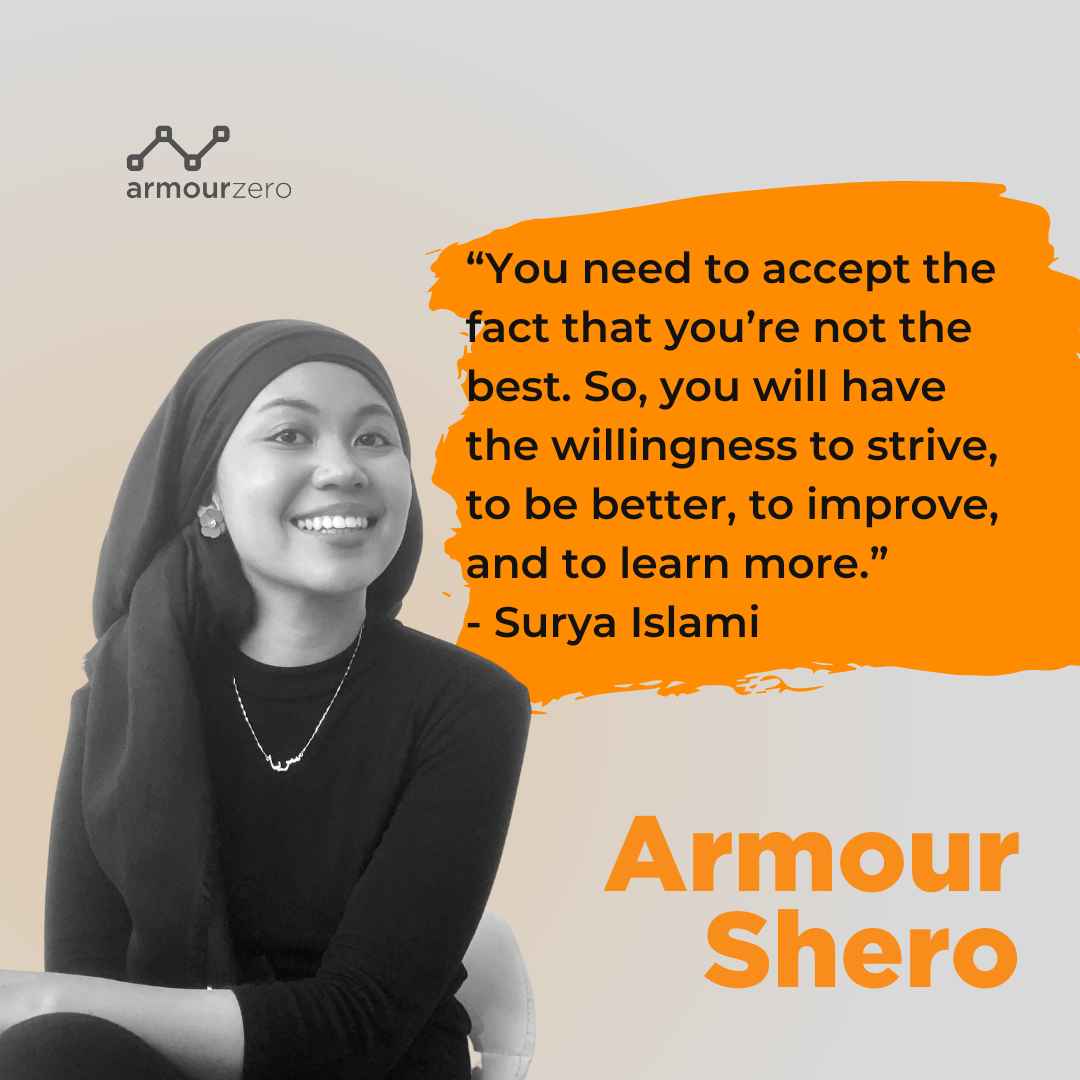 Share this post
Related Posts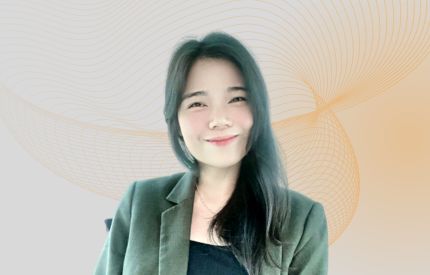 02 Oct 2023
By:Bernadetta Septarini
Category: ArmourShero
Queenie Liew, Solution Consultant Engineer at CSP Global Technologies, shares her passion and journey as a cybersecurity shero in the tech industry.