We all know that bad security decisions can lead to substantially enormous costs and losses and significant business disruptions for any company, regardless of size. The constant news and stories about hacking, breaches, malware attacks, and other cyber scenarios only serves to raise the level of anxiety and concerns. 
In the past, many business owners, either due to ignorance or being ill-advised, had been complacent and/or blasé about cybersecurity protection. Because majority at the time, all systems were on-premise and the old school of thought then was to secure the pipeline entry point into their networks. All fine and dandy but with the advent of cloud computing and cloud-based software applications today, like countries today cannot adopt the closed economy versus an open economy, that is:
Open and Closed Economies:
A closed economy is one that does not interact with other economies in the world. There are no exports, no imports, and no capital flows.

An open economy is one that interacts freely with other economies around the world.
Cybersecurity in Today Business
Similarly, today businesses are adopting the open economy technology platform, interacting, interfacing and integrating with internal and external business software applications such as Business To Business (B2B) and Business To Consumer (B2C). Because of this, companies looking to start or extend their use of cloud-based solutions quickly come to the question of IT security, such as 'do cloud-based solutions expose companies to higher security risks? Are cloud-based systems more secure than on-premises?'
In reality and in fact, there is no single answer to the question whether cloud technology is more secure than on-premise technology. It is better to ask companies whether cloud-based service/solution providers have configured their solutions, not only correctly, but also proper cybersecurity protection solutions implemented.
Of course, common IT business sense dictates cloud solutions that have been configured correctly are more secure than on-premise solutions. This can be explained as The Power of ONE. 
From a Cybersecurity standpoint, vendors push platforms but (and we know) features, functionality, and definitions vary.
Attended any Cybersecurity Conference events lately? If you have, no doubt you would have seen on the event show floor every Tom Dick Harry security vendors pitching their respective technology platforms from the likes of FireEye and McAfee (both merged to form Trellix), Symantec, CrowdStrike, Fortinet, Webroot, Forcepoint, Palo Alto Networks, Trend Micro, Cisco, and many others.
Cybersecurity Technology Platform
The description of the word platform is generally agreed by Cybersecurity vendors, to describe an integrated amalgamation of point products that creates a common and interoperable architecture. In other words, Platform Security refers to the security architecture, tools, and processes that ensure the security of an entire computing platform that uses bundled/unified security software, systems and processes to enable the security of a computing platform's hardware, software, network, storage and other components.
Cybersecurity platform requirements cover the following:
Coverage from endpoints to data centres to cloud provides comprehensive coverage that includes endpoints (such as PCs, mobile devices, IoT devices, etc.) and networks, as well as physical servers, virtual servers, and cloud-based workloads (VMs, containers, etc.).

Prevention, detection, and response capabilities offering best-of-breed security efficacy while the platform should provide incremental threat protection.

Hybrid deployment options offering flexible implementation alternatives so customers can pick and choose the best fit.

Cloud-based services covering myriad cloud-based services like threat intelligence analysis/sharing, static/dynamic file analysis, reputation list compilation and distribution, machine learning modelling, etc.

Central Management and Reporting with individual tools plugged into a central management plane offering role-based access control that can be customised for different users, views, and functions where management functionality include policy management, configuration management, and detailed reporting from individual tools, from groups of tools, or across the entire architecture thus management data can be easily exportable to other tools such as SIEM (Security Information and Event Management, GRC (Governance, Risk and Compliance) tools, automation/orchestration systems, etc.).

And last but not least, Openness, that is, given the market reality, security technology platforms should be open for easy third-party technology integration by offering developer support, technology partnerships, and well-documented and standards-based APIs (application programming interfaces) as a core part of the platform.
The Power of One Cybersecurity
As coined earlier, POOCSaaS will do away with the Frankencloud Platform, the hybrid approach of On-Premise and On-Cloud, that is, a company's existing on-premise systems mixed with public cloud resources and as-a-service resources and treats them as one. This may look like an All-In-One, but will not produce the benefits of a Power Of One platform.
Here is a matter-of-fact rather than an analogy, let's review the two mobile phone operating systems, namely, Android (Google) and iOS (Apple). It is a known fact that Android O/S is more vulnerable to be compromised than Apple's iOS.
Google developed the Android operating system and distributes it to multiple phone manufacturers, all of which have control over how the Android operating system will appear and function on their respective devices. Phone manufacturers would modify and add what is known as "bloatware" to the operating system which will diminish the integrity of the user experience.
Bloatware is software you do not want which will burden and slow down one's device. These programs are preinstalled on new devices, bundled with other downloads or injected into the system through malicious sites.
The mobile phone manufacturers (Samsung, Huawei, Oppo, etc) can decide which Google updates they will push to their users, leading to some Android users running on outdated and unsecured versions of the Android OS.
Apple, on the other hand, has full end-to-end control of their operating systems and the ability to push updates to its users' phones, leading to a more seamless and secure experience. No bloatware, no missed security patches, and no incongruity.
Today and do not be surprised, most organisations are operating on a disjointed Android-like model with all kinds of different tools that do not work together with updates receiving at seemingly random intervals.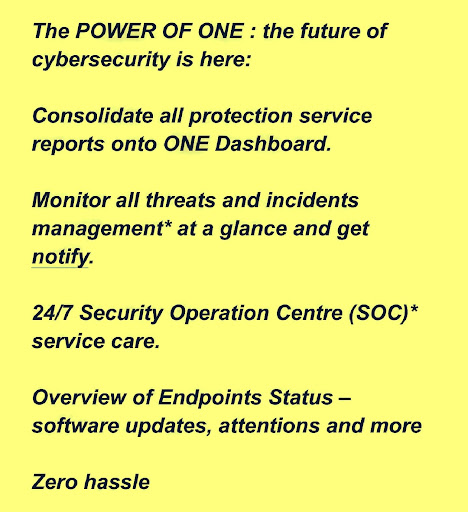 Dear Readers, you come across a flyer like below, would you not be curious to want to know more POOCSaaS? What is POOCSaas, I hear you ask? I confess I made up aka coined the term, POOCSaaS ie. Power Of One Cybersecurity as a Service but the concept is not. Consolidation, Centralisation, All-In-One, a One-Stop Shop where a one-stop shop is a business or office that offers multiple services or products to customers. The business strategy behind the one-stop shop is to provide convenience and efficiency to clients, gaining loyalty as well as revenue.
Another confession, of the above e-Flyer, was extracted from ArmourZero – Where Security Meets Belief website. In short, POOCSaaS or All-In-One or Power Of One is all about a Single Cybersecurity Platform. Platform Security enables the securing of an entire platform by using a centralised security architecture or system. Unlike a layered security approach, in which each layer/system manages its own security, platform security secures all.
Conclusion
The solution to any Frankencloud cybersecurity environment is to consider the Single Platform Security, as the Palindrome saying goes, All for One and One for All, The Power of One Cybersecurity Platform which introduces the singular Security Delivery Platform (sSDP) structure deploying network and security tools via a single platform managed by a single vendor in the provisioning of consistent service, reports and solutions, all managed by a single security provider.
Single platforms do not have to deal with the incongruities that come up when using tools provided by multiple vendors all with their own design, detection and alert systems. Using a single vendor ensures security cohesion.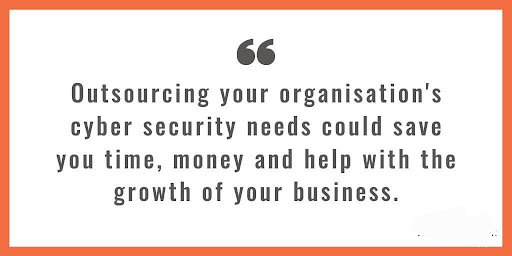 Catch When Expert Meets Expert by Eugene Chung articles every bi-weekly Tuesday. Don't forget to subscribe to stay connected. You are also encouraged to ask questions and seek advice from him.
Share this post
Related Posts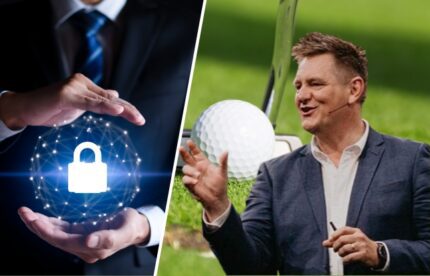 Discover the connection between cybersecurity and sports with Tony Smith, Regional VP at WithSecure. Let's achieve the 'Hole-in-One' of Digital Defense.