Never too late for
Cost-effective Cybersecurity
Through all-in-one cybersecurity, we save the budget and
still protect our organisation from cyber threats.
Because all security solutions can be accessed through
1 powerful platform at ease and at affordable pricing.
Powered by:
Trusted Cybersecurity Provider

Start Protection today with

ArmourZero
+
WithSecure
---
All-in-one Security Solution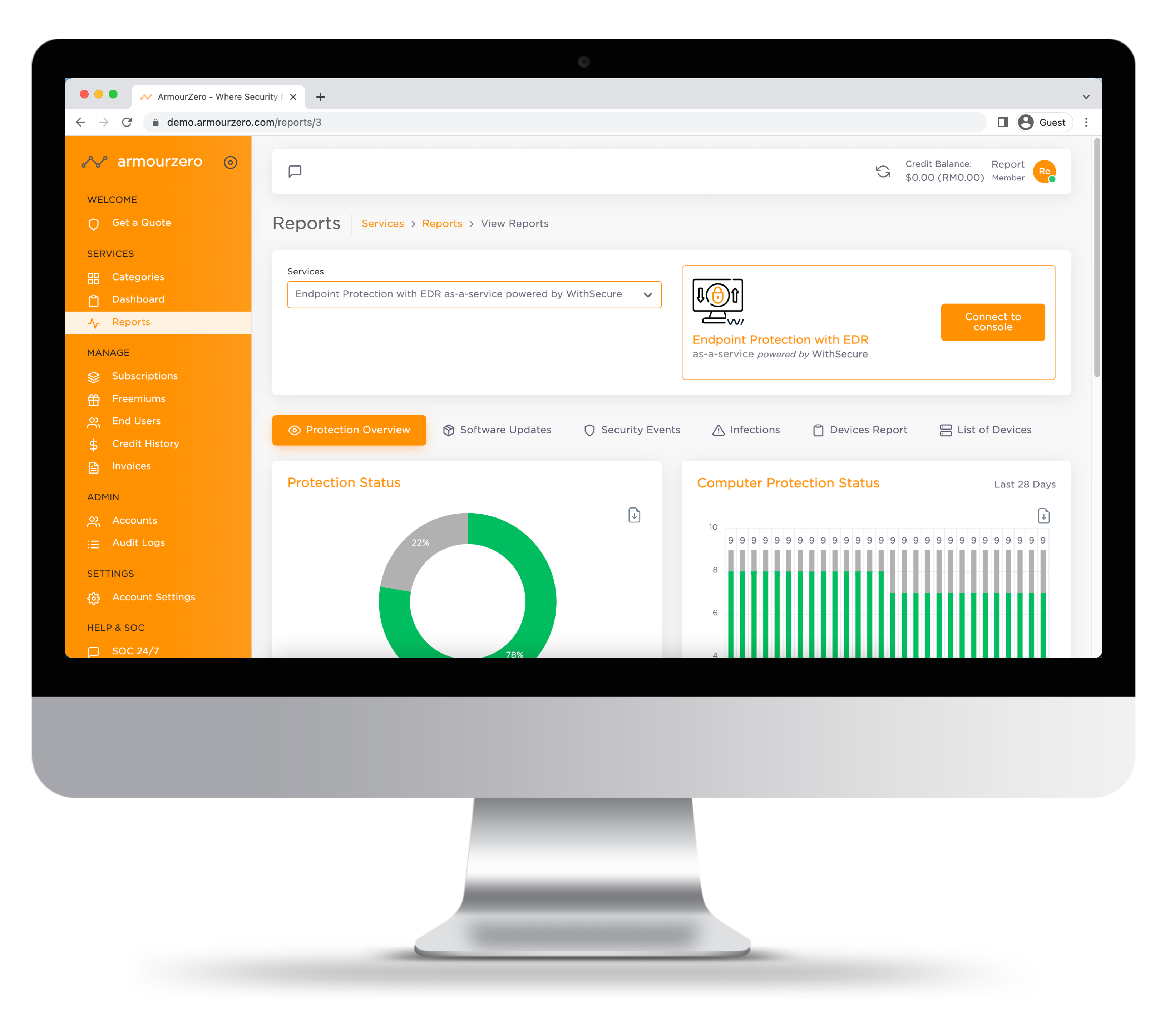 Advanced Technology
Manage multiple cybersecurity services throughout the company, all in one place.
Expert People
Ensure your cyber safety with the expert and grow your business with peace of mind.
Efficient Process
Simplify the installation to user management with our cost-effective online solution.
Protection should be easy,

the same goes for pricing.
---
Tell us your business size, select a cybersecurity service and start protection right away.
Endpoint protection services
Endpoint Antivirus


as-a-service

Endpoint Next-Gen Antivirus


as-a-service

Endpoint Protection with EDR


as-a-service

Endpoint Protection with EDR and Threat Intelligence


as-a-service

Price

USD 32.00


per user
per year

USD 50.00


per user
per year

USD 70.00


per user
per year

USD 110.00


per user
per year
Powered by
Features
Protects your devices and assets from virus, spyware, and ransomware with real time scanning, endpoint firewall, and signature based protection.
Includes Endpoint Antivirus as-a-service features, PLUS: Signatureless-based protection, and Machine learning and artificial intelligence (AI) detection.
Includes Endpoint Antivirus as-a-service features, PLUS: real-time behaviour, real-time reputation, real-time big data analysis, and automatically place detections into a broader context including risk level.
Includes Endpoint Next-Gen Antivirus and EDR features, PLUS: threat hunting, continuous monitoring with CrowdStrike's OverWatch and hunts relentlessly to detect, and disrupt the stealthiest sophisticated threats with proprietary tools.
Protect Now
Learn More
Protect Now
Learn More
Advanced endpoint protection services
Web Protection


as-a-service

Patch Management


as-a-service

Email Protection


as-a-service

Security Rating


as-a-service

Price

USD 24.00


per user
per year

USD 60.00


per user
per year

USD 70.00


per user
per year

USD 1,000.00


per domain
per year
Powered by
Features
Protect your website from malicious, phishing, visiting inappropriate, malware, ransomware. and cryptojacking.
Protect all your OS and third party applications against known vulnerabilities by controlling authorised or unauthorised applications used, ensuring continuous patch and always up-to-date version.
Protect your Microsoft 365, Google Workspace email, or other cloud applications from phishing threats, malware, ransomware, and keeping sensitive data safe and secure.
Protect your business with advanced cybersecurity risk rating system to identify potential security issues. Each issue is backed with detailed information issue summary and detailed descriptions, related CVEs, hostname, IP address, asset value, issue severity, and risk priority.
Learn More
Learn More
Learn More
Learn More