Mutiara Arumsari is the Senior Program Manager at Dicoding, a pioneer Education Technology (EdTech) company that focuses on accelerating Indonesia's transition to a digital world through self-paced learning. Their programming curriculum is partnering with Google, Microsoft, AWS, IBM, and Line in Indonesia.
Mutiara graduated with a Master degree of Public Affairs from Sciences Po in Paris, France, she also holds a Bachelor degree of International Relations from Universitas Indonesia, all graduating cum laude. 
Prior to joining the Tech Industry, Mutiara was the National Project Management and Coordination Officer at The International Organisation for Migration (IOM) Indonesia, part of The United Nations (UN) for 5 years. However, she decided to leave her job to support her husband on his PhD studies as well as their children's education in Japan. 
She returned to Indonesia in 2017 and joined Dicoding to embark on her career journey as a Woman in Tech. 
Here is her story.
#1 How did you get started in the IT industry?
After returning from Japan, I had two choices: back to work at the UN Jakarta or find another job that allowed working from home because I wanted to stay close and have more time with my family. 
Unlike nowadays, back in 2017, not many companies allowed their employees to work remotely. However, Dicoding was the only one that was willing to accept me. Their office is in Bandung, while I live far away in another city, in Bogor. Therefore, without any experience and knowledge in this industry, I started my career at Dicoding and my first job was as a Content Writer for their blog. 
It was pretty challenging for me because not only did I have to learn many technical terms about programming languages but also must capture great and interesting stories from our students that came from many cities in Indonesia. 
After a few years as a Content Writer, I decided to elevate my position to Program Manager, it's actually similar to something that I had done while still at the IOM Indonesia. I'm currently responsible for developing a program that focuses on managing digital talent education entrusted by our clients.
#2 Are there any challenges in your career?
For me, the challenge is to create sustainable programs and convince our stakeholders such as the government, universities, and sponsors that education is a long term project. 
During the Covid-19 pandemic, we all realised the importance of technology, so the digital transition for Indonesia needs to be accelerated faster. However, unlike the infrastructure sector where we can see the results of its construction, the results of education are not instant and immediately visible. My role as Program Manager is to reassure them that we have to be patient because sometimes it takes 3-4 years to see the outcome from the students. 
Another challenge for me personally is to create smooth communication with various people, from bureaucrats to technologists. It's not an easy task because each of them has a different way of thinking and expressing their opinion, but my social education background somehow helps me to get through this.
#3 What can women do to overcome the challenges faced in the Tech Industry?
We know that women in tech are still a minority, in Indonesia only 30% of women study science and technology in university. The rest is dominated by men (DW Indonesia). I think what really needs to be done is to give women more opportunities to study and then work in the IT industry. 
Before the pandemic, we can say that in every industry the challenges for married women are to work from the office, build a career, and at the same time take care of their children. Because of those situations, according to Indonesia National Data Statistic (BPS), 57% of women choose to resign from their job especially after giving birth. 
In my opinion, women shouldn't have to choose between family and career. All of us, the government and companies, need to create a flexible working environment to help women and also men, manage their work and family.
#4 What is the interesting part you found in the EdTech industry?
Well, Indonesia is currently enjoying a demographic bonus, indicated by the number of people between 15-64 years old (the productive age) is 191 million or 70% of the population. With the internet connection, it's now easier to be a programmer, web, android/IOS developer, or any profession in tech. Of course, this is a big market for EdTech (now, Dicoding has more than 500,000 students) but at the same time an opportunity for the IT industry to hire young and talented new workers.
Also, because I've written many great stories about our students, I still remember this one student: a father in a small city without a fixed job but trying hard to change his family life. In the morning he worked as a Gojek driver, as a waiter in the afternoon, and learned programming at night. When he finally finished and received the certificate, he applied to several companies and got hired as an IT developer in one of the State-Owned Enterprises.
It shows that these days it doesn't matter where you live, your economic or educational background as long as you are self-driven, eager to learn, and ready to grab opportunities in technology, you can change your life. For me it's really rewarding to get to know the person himself, write the story, and inspire others to never give up their hope. Just try hard enough. Learning programming can change people's lives.
#5 As a wife and mother of two, how do you manage your career and family?
I'm so grateful that I work in a company that allows us to work remotely, long before other employers did this. Although I work from home, life balance is important since we all have the same 24 hours.
I start working very early around 3-4 am before the kids wake up because at 6 am I have to prepare and take them to school. After sending kids to school, I resume my busy work until lunchtime. Then, pick up the girls in the afternoon and finish everything up before 6 pm. Nighttime is for family. 
I have to admit that sometimes I have to sacrifice my sleep time because it's not easy to juggle between work and raising children. But, I want to show my daughters that their working and productive mum is always there for them. I want them to grow up with confidence and high-self esteem.
#6 Who would you want to thank and appreciate for helping your career build up?
The first person I want to thank is my mother. She always said to me, do your best! If I want to study at the university, get the best one and be the best student. If I want to work, choose the best company that you like and never do things halfway. I still remember when I was in middle school, at that time it was raining cats and dogs, but I had a class to attend. My mom didn't care, she gave me an umbrella and still asked me to go. I know she was hard on me, but that is the foundation of who I am today.
The second person is my husband Muhammad Haripin (author and researcher at Indonesia National Agency for Research and Innovation – BRIN). He is my biggest supporter and always trusts that I can do multiple roles: a wife, mother, and employee.
Then the third person is the CEO of Dicoding, Narenda Wicaksono. He allows me to fulfil my duty as an employee and parent comfortably at home.
#7 Since you are a working mom, what is your advice to fellow working moms?
I know it's not easy to multitask between career and family, but I have two things that I always believe:
Never underestimate the power we have as women. 

We are capable to achieve what we envision, only if we trust ourselves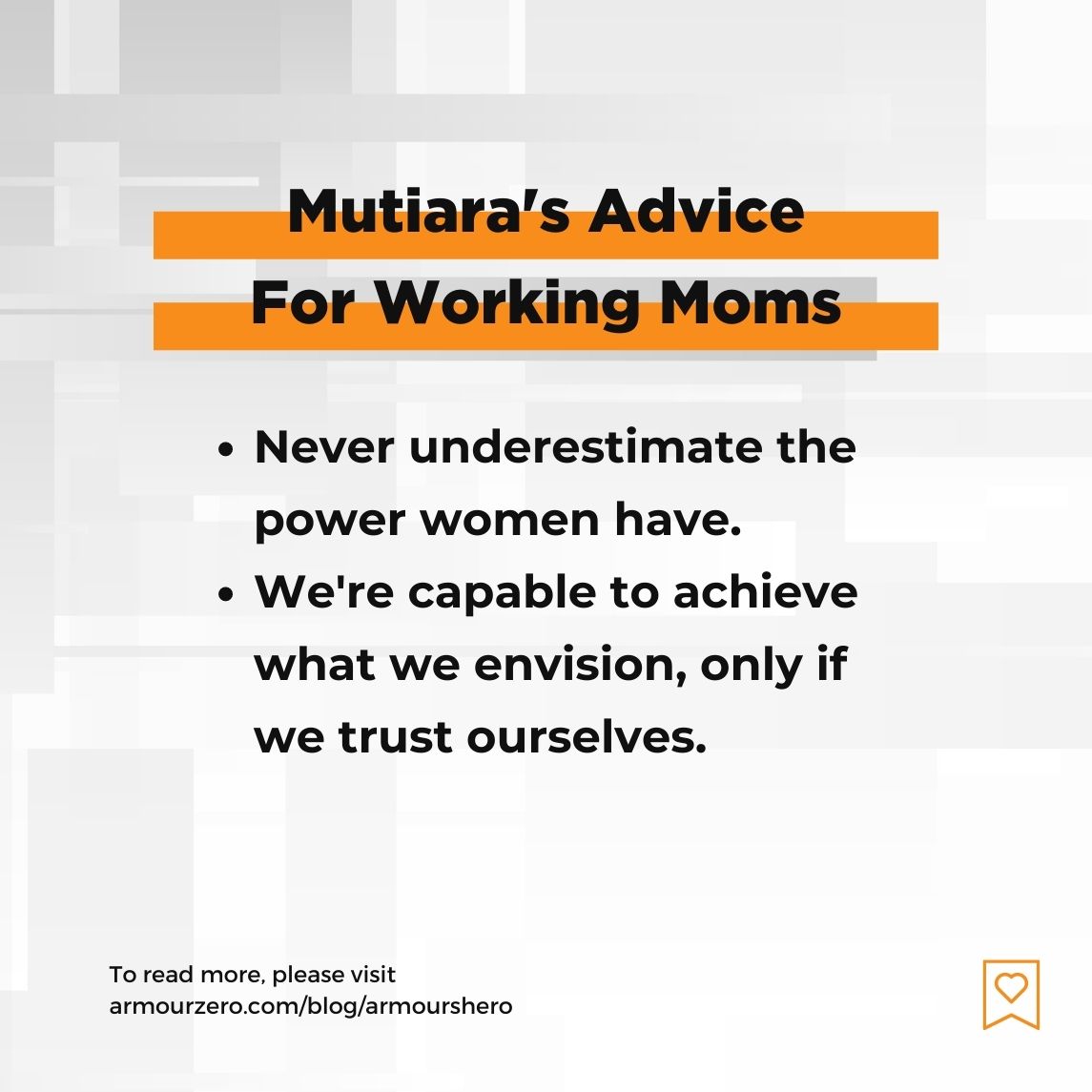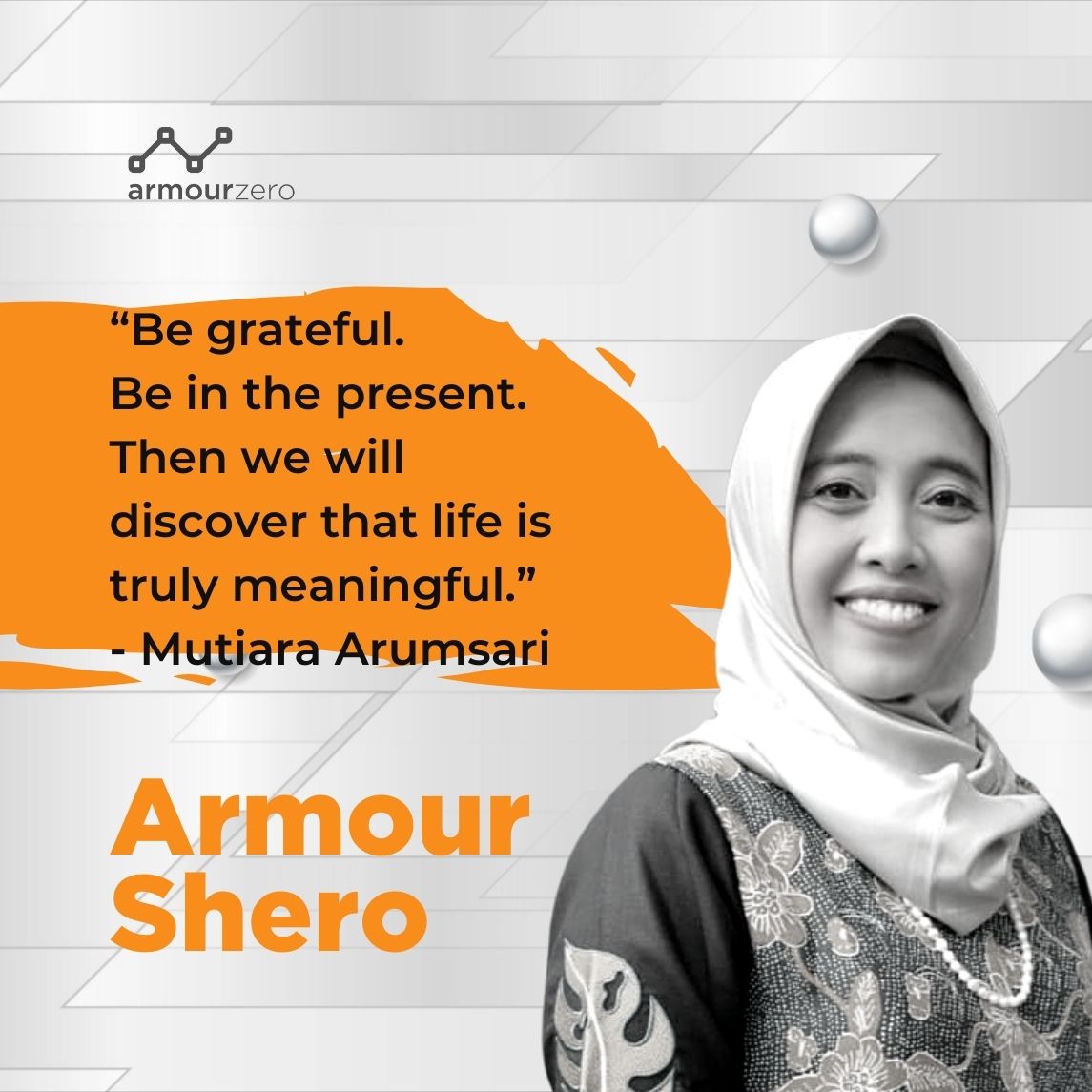 Share this post
Related Posts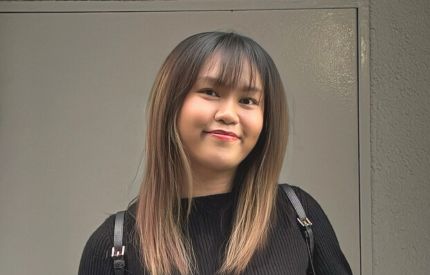 28 Nov 2023
By:Bernadetta Septarini
Category: ArmourShero
Nabila Hishamuddin, Customer Support Team Lead at Respond.io, shares her journey and spirit of a tech shero while spearheading exceptional customer support.