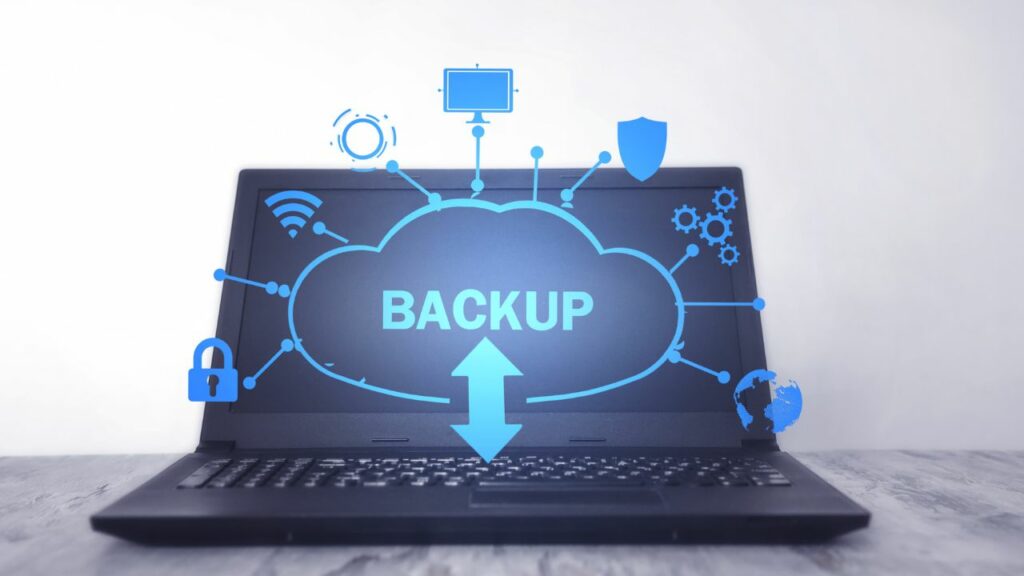 Eight out of ten mobile/cell phone users are complacent and even blasé about backing up their phone data (contact details, photographs, videos, notepad information, etc). Unsurprisingly, IT professionals, the proponents of backups in workplaces, are none be bothered too when it comes to backing up their phone storage data. If any of these IT professionals are like me, the mobile phone is my mobile PC/Laptop ie. I do the majority of work-related tasks on my mobile phone. That is exactly what I am doing now, writing this article while overseas in Melbourne, Australia. 
Thus, my reliance on smartphone usage is high so much so that I have 2 smartphones, 2 different numbers. In addition, my phones are also my TV/cinema (Netflix, Youtube), news informer, destination locator, music box, etc. Word, PDF, and Powerpoint documents (work-related or otherwise) received via emails, WhatsApp, Messenger are stored on the phone. Photos, personal or otherwise, are taken from the phone camera stored on the phone storage. Phone users have thousands of photos and videos on their phones. 
I dare bet my last dollar the thought of backing up their phone data is not a priority until one day their phone hardware fails, breaks down, or the smartphone motherboard and/or battery dies on them. The user then will realise all the data stored on the phone is unretrievable. Sure, phone users can have the phone checked by smartphone maintenance technicians at the risk of having the phone be left in the hands of a stranger to open up the phone. In a way, jailbreaking the phone and having full access to all the user's personal and private information. 
Rest assured that even if the phone data are recoverable, the data will be stolen. In such cases, it is hoped the photos stored on the phone are not naughty pictures or worse, naughty pictures of oneself!
Personally, I am glad I am somewhat OCD (Obsessive-Compulsive Disorder) but not in the illness-sense of the word/term. I have formed the habit of backing up all important (what is important to me) phone data to cloud storage which for me is Google Drive. Photos/Pictures taken, documents received, screenshots of banking transactions and statements, bills, invoices, reports, articles formatted in PDFs and Word documents, etc. I have disciplined myself to either immediately upload the phone data to my Google Drive(s) or by end of day, everyday. I do this routinely and this has become a natural daily task effort I carry out religiously.
As I am writing this article right now, 1st of May 2022, I am in Melbourne, and I am working. Last week, I was in Sydney, my older mobile phone (I carry 2 mobile phones) failed/died on me. This dead phone was my working phone where  most of my work is done/carried out. Just overnight, the phone hardware decided to die on me. I could not power on. The battery was fully charged at the time. Pressing the power-on button simultaneously with the volume down button was supposed to kickstart the phone starting up. Initially, it did start the phone which came on, the phone screen lit up with the message phone starting but after 5 seconds, the phone went dead. Repeated this process several times, same results until finally like Count Dracula, a stake through its heart, rest in peace. 
Whatever I had left on the phone in the physical storage will be unretrievable unless I decide to send the phone to a technician which I will not be doing so. I am cool as a cucumber, calm as a millpond. Why am I so? That is because all my important phone data is backed up to cloud, google cloud, and google drives. Now, imagine if I was not OCD about backing up my phone data, my business and pleasure time in Sydney and Melbourne would not have a happy ending!

My story sharing should provide further credibility to the importance of Data Backups. Let us now look at the 5W1H Principle of Data Backups.
In information technology (IT), a backup or data backup is a copy of computer data taken and stored elsewhere so that it may be used to restore the original after a data loss event. The verb form, referring to the process of doing so, is backed up, whereas the noun and adjective form is backed up.
What is the meaning of data backup?
Data backup is the practice of copying data from a primary to a secondary location, to protect it in case of a disaster, accident or malicious action. Data is the lifeblood of modern organisations, and losing data can cause massive damage and disrupt business operations.
What is data backup used for?
The purpose of the backup is to create a copy of data that can be recovered in the event of a primary data failure. Primary data failures can be the result of hardware or software failure, data corruption, or a human-caused event, such as a malicious attack (virus or malware) or accidental deletion of data.
Why are Backup and Recovery important?
Backup copies allow data to be restored from an earlier point in time to help the business recover from an unplanned event. Storing the copy of the data on a separate medium is critical to protect against primary data loss or corruption.
Examples of Backup Data
In general, you should back up any work or data that can't be replaced easily. Some examples are word processing documents, spreadsheets, databases (for financial data), customer data and personal files such as pictures, music files, emails, etc. As a rule of thumb, do not backup programs or system folders.
Protect Your Business Data
Data security is an essential aspect of your business continuity and data backups are a critical aspect of that practice. Data backups ensure you have a complete copy of your systems ready to restore, no matter why the data loss occurred.
What is the best way to backup your data?
What makes a good backup? Experts recommend the 3-2-1 rule for backup:
3 copies of your data, 2 local (on different devices) and 1 off-site. For most people, this means the original data on your computer, a backup on an external hard drive, and another on a cloud backup service.
6 Ways to Back Up Your Data: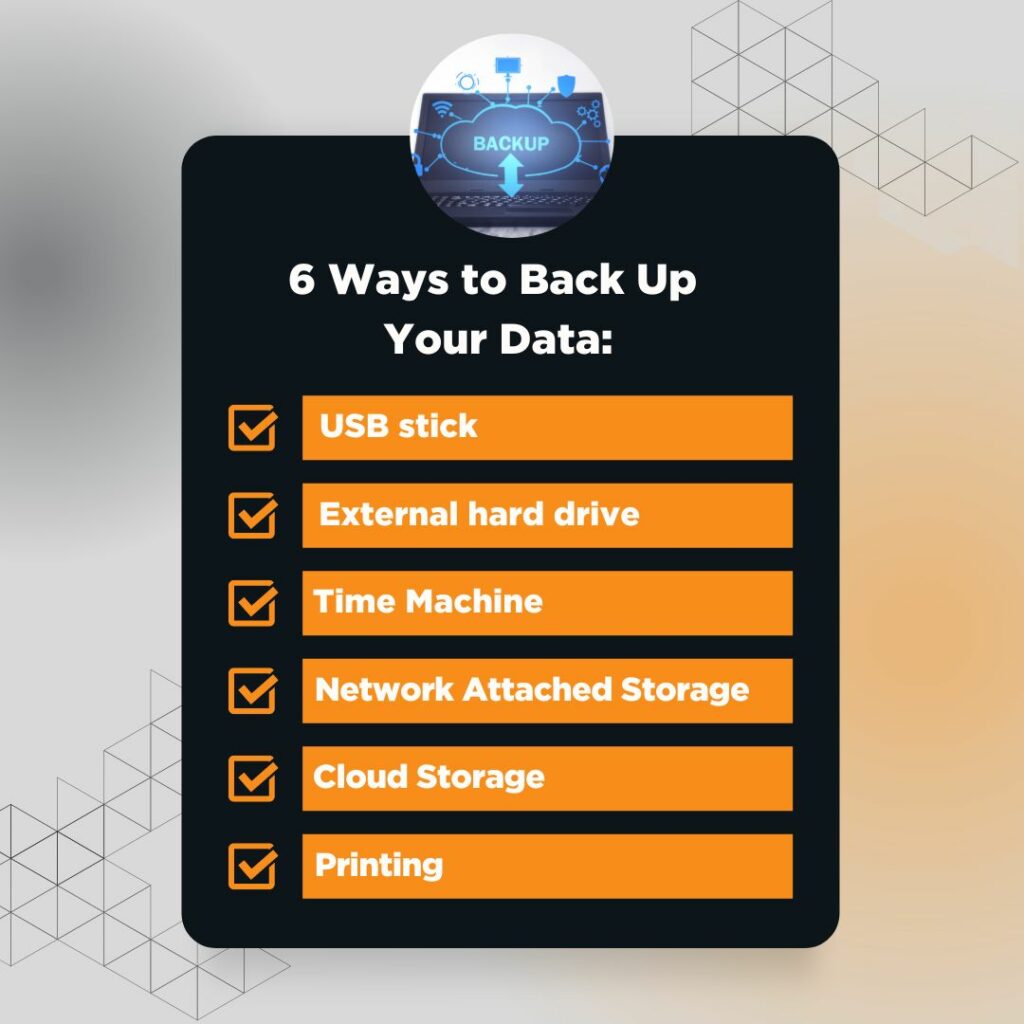 USB stick. Small, cheap and convenient, USB sticks are everywhere, and their portability means that they're easy to store safely, but also pretty easy to lose.

External hard drive.

Time Machine.

Network Attached Storage.

Cloud Storage.

Printing.
Are Online Backups Safe?
Online backup services are very safe and secure. They will keep your data more secure than if they were stored on an external hard drive that sits next to your computer. Just think if there were some sort of disaster that ruins your computer, the files stored on the external drive would be ruined also.
Is it safe to backup to the cloud?
Yes, your data is relatively safe in the cloud – likely much more so than on your own hard drive. In addition, files are easy to access and maintain. However, cloud services ultimately put your data in the hands of other people. If you're not particularly concerned about privacy, then "No worries, mate!".
Cloud-based data is generally more secure than data stored on a home computer connected to the Internet.
Is the cloud safer than on Prem?
But for most businesses, implementing the necessary security measures on-premises is so costly as to be virtually impossible. Unless your business has multiple offices, a 24/7 security team, and an unlimited IT budget, cloud storage is more secure than on-prem storage.
Who owns data stored in the cloud?
The short answer is that you own the data you create, but the cloud service provider has ultimate control over it. This is reflected in many providers' terms of service which state that they can hold on to the data to comply with legal regulations.
Conclusion
Storage devices are getting smaller and holding more data as time passes by.

Backup is very important for businesses and personal uses, you need a device that can hold all your data and be reliable at the same time.

Everyone has their own needs and preferences.
Catch When Expert Meets Expert by Eugene Chung articles every bi-weekly Tuesday. Don't forget to subscribe to stay connected. You are also encouraged to ask questions and seek advice from him.
Share this post
Related Posts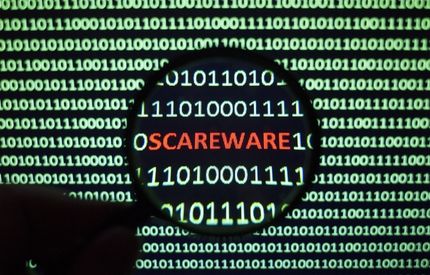 What is Scare Software or Scareware? Learn more about this Social Engineering technique that aimed to scare the victim with ArmourZero mentor Eugene Chung.