Christy Wong is very well-known with her pretty baby-faced look, capable, and reputable in the IT cybersecurity vendor's line.
She is the Vice President of Sales for CSP Global, a company that she has been working for more than a decade. Together with the company, they built and grew to become one of the best IT cybersecurity companies in Malaysia. Today, she is more like a business partner than an ordinary employee in the company.
Here's her story.
#1 How did you get started in the IT industry?
I majored in Business Information Technology (BIT) but I didn't start my career in the IT industry. I started as a marketing person in the automotive industry instead. Back then, BIT touched very little on IT subjects, more towards business management. 
As a fresh graduate, I just join any company that is available, rather than choosing the industry itself.
It all started with my surrounding friends who are mostly in the IT industry. Upon hearing their stories of good and bad experiences, I found this industry is very interesting. Furthermore, IT cybersecurity at that time was a luxury of good to have solutions. It's challenging, but at the same time is very rewarding if we succeed.
With the motivation from many of my good friends, that's how I started my career in the IT industry.
#2 Can you tell us your experience in the IT Industry? 
Well, technically I work in two (2) IT companies only. The first one was about 18 months before I joined the current company, CSP Global. Although it is just 18 months, I am thankful that I have been given an opportunity for a fresh start in the IT industry.
For me, no matter what company you are working with, the most important thing is the culture of the company. Company culture includes how the company operates, management's style, and colleagues' teamwork, passion, and spirit.
I moved on to CSP Global, which was named Channel Solution Provider before it was rebranded in 2017. It was a newly set up company, and I'm the first Channel Manager onboard. Till now, I'm amazed at the company's decision to hire me, as I lacked experience and business's contacts. I thought it would be better and less risky to start with more experienced people. 
#3 How do you achieve your successes?
I have been given complete freedom to explore and conduct my roles and responsibilities. Unknowingly, in the beginning, this freedom drives and motivates the need for me to prove my performance and avoid disappointment to the company that trusted me. It also works well with my personal's character. After all, who would prefer being micromanaged, right?
It's teamwork that makes everyone successful, not me alone. As mentioned, a company's culture is of utmost importance to me. Everyone treats each other as close work-siblings, and we always called our office, 2nd-home, till today. Every morning we wake up, we look forward to our achievements or problem fixing of the day, rather than feeling "haaaa, I have to work again".
Whenever I hit challenges, everyone, including the management team, is willing to sit down and discuss ways to overcome them together. There isn't hierarchy or seniority demarcation, and this makes us feel comfortable. I can just seek guidance, opinion, or advice over a phone call, a simple text or over a meal session without the fear of looking bad or weak. 
I believe this is something everyone should practise; don't fail to speak out for help, rather than keeping it and affecting individual work results.
Besides colleagues, there are many people in the industry that have helped and supported me from the beginning until today. I'm feeling grateful and thankful to have them with me. 
#4 What do you like about your career?
What I like about my career is the job nature. I enjoy meeting many people and growing my network. People's networks are the success key in our industry, so it's important for me to get to know many people. On a non-serious note, I will be able to travel to many countries such as the United States, European countries, South East and North Asia, and Australia.
#5 Is there any toughest moment in your career?
As a Sales role, my responsibility is all about number performance. Sometimes we don't have enough revenue for the company and that makes me question my ability, "Am I already giving my best for this?". But, then I have a supportive team and colleagues that always support me when I'm at my lowest point. I think it's okay to feel insecure at some point, but the most important things are when we know about it, then we try to overcome the insecurity by giving our best effort.
#6 What would be your advice to fellow women?
You need to manage your time wisely, especially if you are married and have children. Never neglect your family and kids. 
You must manage your emotions properly, because it is easy for women to have mood swings, and it won't be good for work.
Practice work-life balance, so we could

be working with efficiency and productivity, also decrease the number of absences, sickness, and stress.
I noticed a lot of women lack confidence and self-esteem; remember to trust in yourself.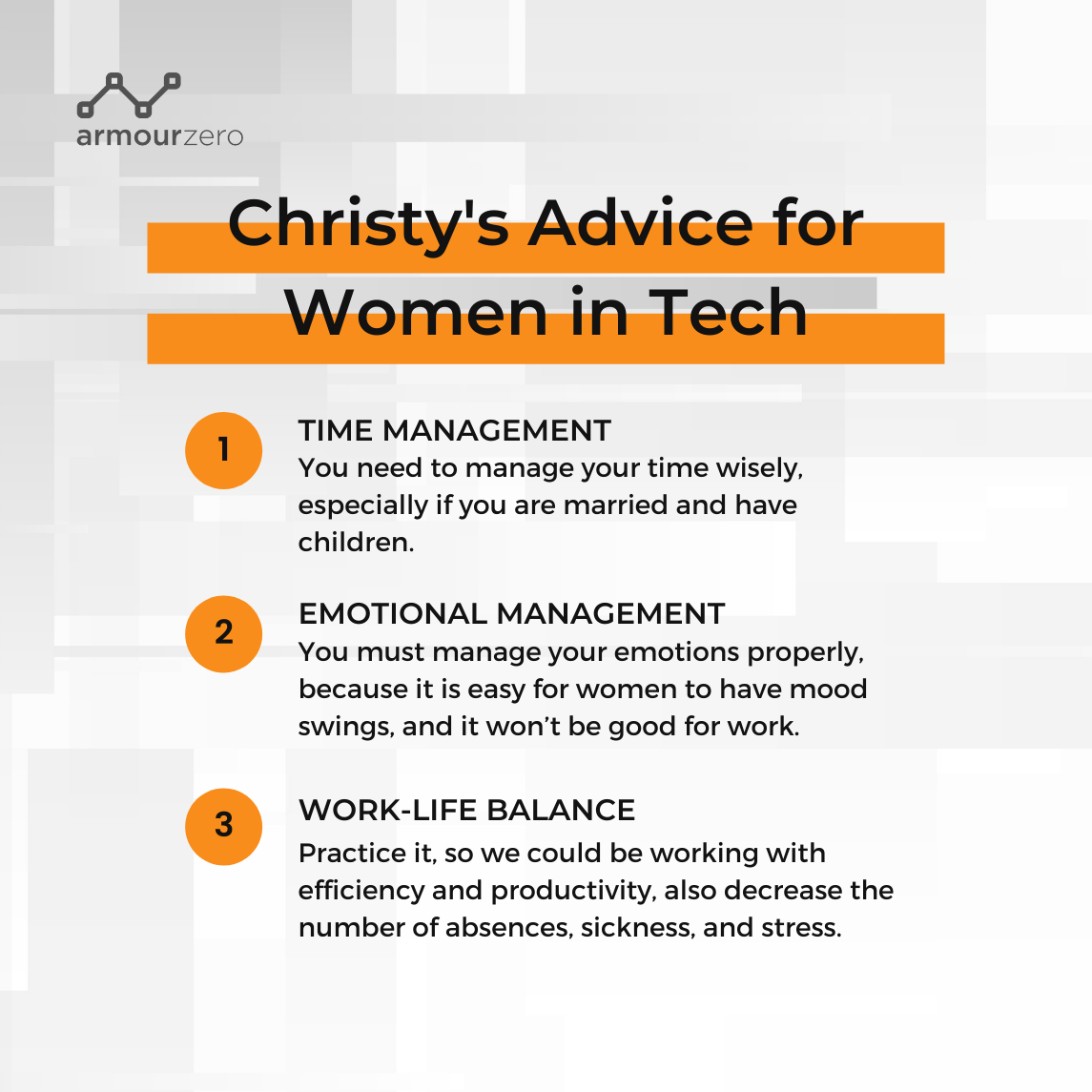 #7 What's your advice against cyberattacks and threats?
Don't take conveniences for granted because the more convenience you have, the more vulnerabilities you could face… Whether you are a smaller-size or multinational company, ensure you have appropriate cybersecurity's protection to protect your most valuable assets.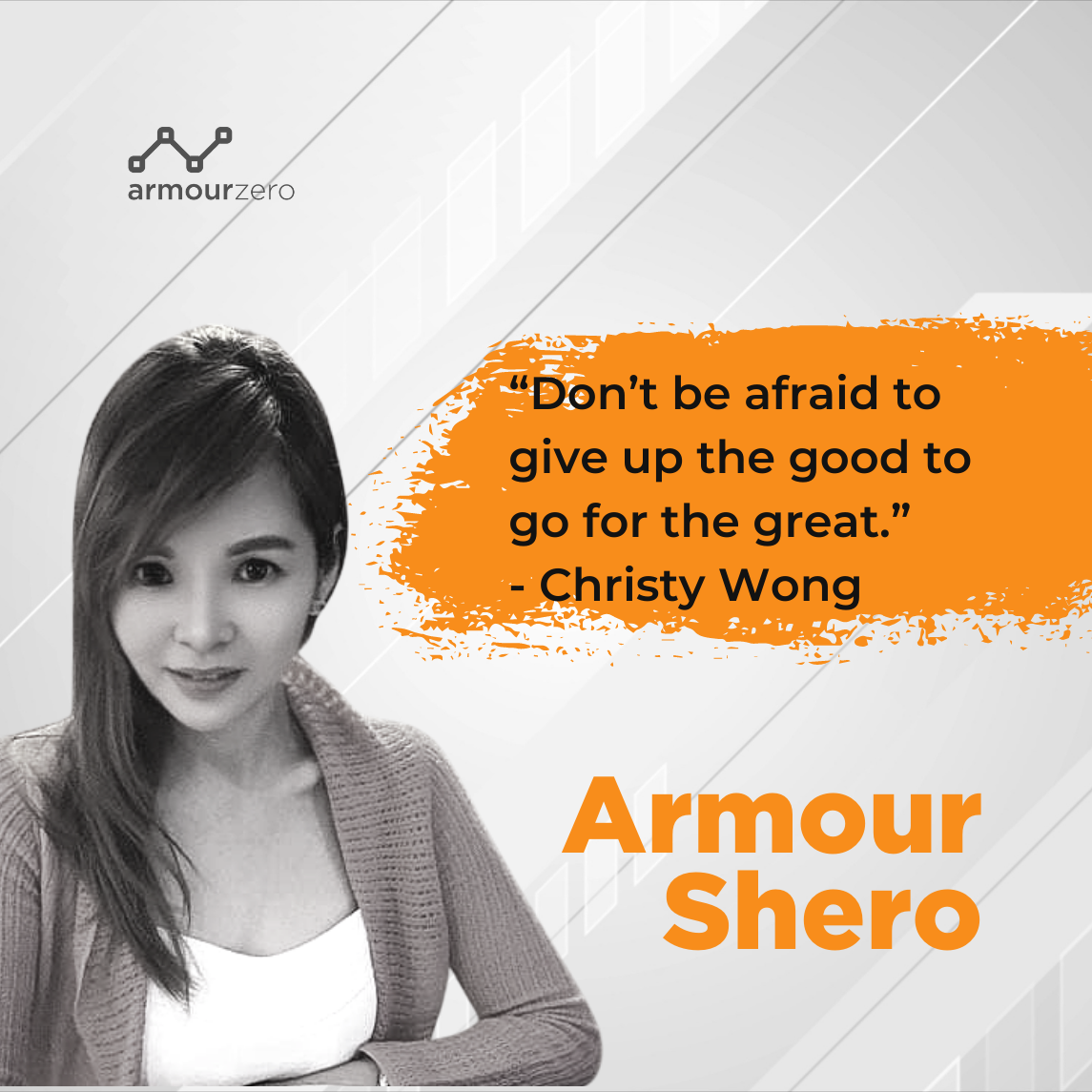 Share this post
Related Posts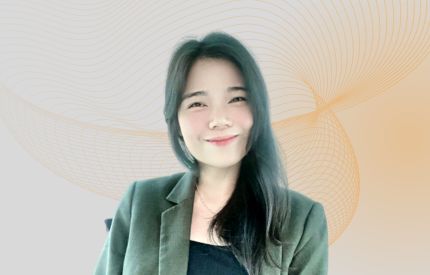 02 Oct 2023
By:Bernadetta Septarini
Category: ArmourShero
Queenie Liew, Solution Consultant Engineer at CSP Global Technologies, shares her passion and journey as a cybersecurity shero in the tech industry.