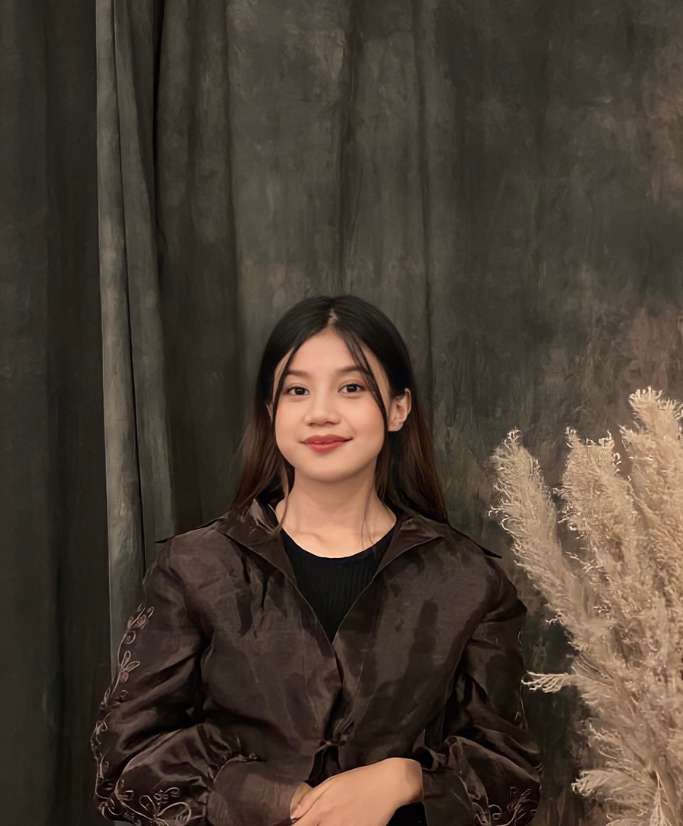 Matahari Trifeny Musa Palinggi, also known as ALS, is a 22-year-old Indonesian who is currently building her career in the cybersecurity industry. She began her career in July 2021 as a member of the Incident Response Team at Blibli.com, one of the largest marketplaces in Indonesia. Later, she moved to PT Bank Jago Tbk as an IT Security professional before finally joining her dream company, Tokopedia, a leading Indonesian technology company specialising in e-commerce.
Following the merger of two Indonesian tech giants, Tokopedia and Gojek (now GoTo), she has taken on a new role as an Information Security Analyst – IT Internal Audit at PT Gojek Tokopedia (GoTo) Group. She is now responsible for conducting IT Security audits for 41 companies under the GoTo Group.
In addition to her work in the corporate environment, Matahari, who has always been passionate about cybersecurity, has also created a TikTok account to share knowledge about Security Awareness and Women Empowerment in the Tech community. Through her content, she has gained more than 47 thousand followers and 2.4 million likes on her videos.
Here is her story and career journey.
#1 How did you become interested in technology?
At first, the idea of pursuing a career in the technology field didn't captivate me. However, my journey towards this path commenced after my high school graduation in 2018. Uncertain about which direction to take, my sister, aware of my proficiency in Physics, suggested that I consider pursuing an engineering major. Despite my hesitations, I was reluctant to dismiss her suggestion outright. In my mind, civil engineering was the only branch of engineering that made sense, given my inclinations.
But fate had something else in store for me. My sister eventually introduced me to Informatics Engineering, a field that blended my passion for physics with an indoor work environment. Encouraged by her, I applied to multiple campuses, hoping to secure admission. Unfortunately, my first-choice majors were all in the medical field, which I reluctantly considered. However, I received rejection letters from all of them, leaving me disheartened.
As fate would have it, I received acceptance into the Informatics Engineering program, which had been my second choice. While I initially felt disappointed, I gradually learned to accept the circumstances and embraced my new path as a Computer and Network Engineering student for the academic year of 2018.
#2 What inspired you to pursue a career in the cybersecurity industry?
The driving force behind my career in the cybersecurity industry stemmed from something simple yet frequently overlooked: security awareness. As I dived into the field of cybersecurity, I quickly realised that cybercrimes often exploit vulnerabilities that originate from the users themselves, which is a commonly neglected aspect. This revelation sparked my curiosity and compelled me to acquire knowledge on identifying cybersecurity loopholes, as well as devising preventive measures and solutions. 
Through my work, my aspiration is to enlighten individuals, and even society as a whole, about the significance of safeguarding personal data and understanding various forms of cyber attacks. I believe that it is crucial for each individual to have a sense of responsibility and remain vigilant in protecting themselves against such threats.
#3 How do you keep up with the latest trends and developments in cybersecurity?
In addition to my work in cybersecurity, I prioritise staying up-to-date of the latest trends, news, and developments within the field. To achieve this, I actively engage in various cybersecurity discussion forums such as Cyber Defense Indonesia (CDEF), IT Audit and IT Security, and Hacktrace Indonesia. 
These forums serve as valuable platforms for me to gather new information on cybersecurity, ranging from emerging tools and malware to the most recent cyber attacks. Furthermore, these forums delve into in-depth discussions on various cybersecurity topics, enabling me to broaden my knowledge and ensuring that I am consistently well-informed.
#4 What challenges have you faced as a woman in tech, and how have you overcome them?
As a woman in the technology field, and having been born in 2001, I often encounter the challenge of ageism, where some individuals perceive my youth as a disadvantage, particularly in cybersecurity. 
I vividly recall an incident from my initial day at a previous workplace when one of my team members remarked, "Young women like you would be better off leading a quiet life at home, playing games. Why choose such a demanding path?" Despite smiling in response at the time, this incident ignited a fire within me, propelling me to showcase that women possess equal capabilities in the technology industry. 
As I collaborated with my team, they gradually recognised that age does not define one's abilities. To combat such presumptions, I prioritise delivering high-quality work and achieving results promptly. By doing so, I gain the trust of my colleagues and substantiate my value, regardless of my age.
#5 What skills and knowledge do you think will be most important for cybersecurity professionals to have?
I think when it comes to the field of cybersecurity, professionals need to possess a combination of both soft skills and hard skills. From a soft skills perspective, having a curious mind is essential. Cybersecurity professionals should be naturally inclined to explore and inquire about the various aspects of the field. Additionally, being a fast learner is crucial since the cybersecurity landscape is constantly evolving, requiring professionals to adapt and acquire new knowledge and skills. Moreover, the ability to analyse situations from multiple angles is important. 
On the other hand, from a hard skills perspective, cybersecurity professionals must have a solid understanding of how IT systems work and the reasons behind their necessity. This knowledge forms the foundation for addressing information security concerns effectively. The specific skills required can vary depending on individual interests and career paths. For instance, those aiming to become IT security auditors need to delve into the intricacies of governance, comprehend the potential risks associated with business operations, and understand how information is classified and protected.
In order to excel in their roles, IT security auditors and other cybersecurity professionals must continuously stay updated with the latest developments in the field. By staying informed, professionals can adapt their strategies and practices to mitigate emerging threats and ensure the security of their systems and data.
#6 How do you balance your life as a social media influencer and security analyst, and what advice would you give to other women trying to do the same?
I have found a harmonious balance between my roles as a social media influencer and security analyst by leveraging my cybersecurity knowledge to create engaging content for my social media platforms. Through sharing my expertise, I not only provide valuable information to my audience but also reinforce my own understanding of the subject matter. This unique approach allows me to work intelligently, seamlessly integrating my career and content creation endeavours. So, managing my time effectively is not a major challenge for me, as I seize opportunities to create content whenever I have a free moment or an interesting idea.
For women seeking to strike a similar balance between content creation and a professional career, I offer the advice of creating content that is unique by actively sharing knowledge and insights within your field, you not only contribute to the collective knowledge but also establish yourself as an authority in your area of expertise. This, in turn, helps in building a strong personal brand and opens doors to new opportunities.
#7 What advice would you give to young women who are interested in pursuing a career in the cybersecurity industry?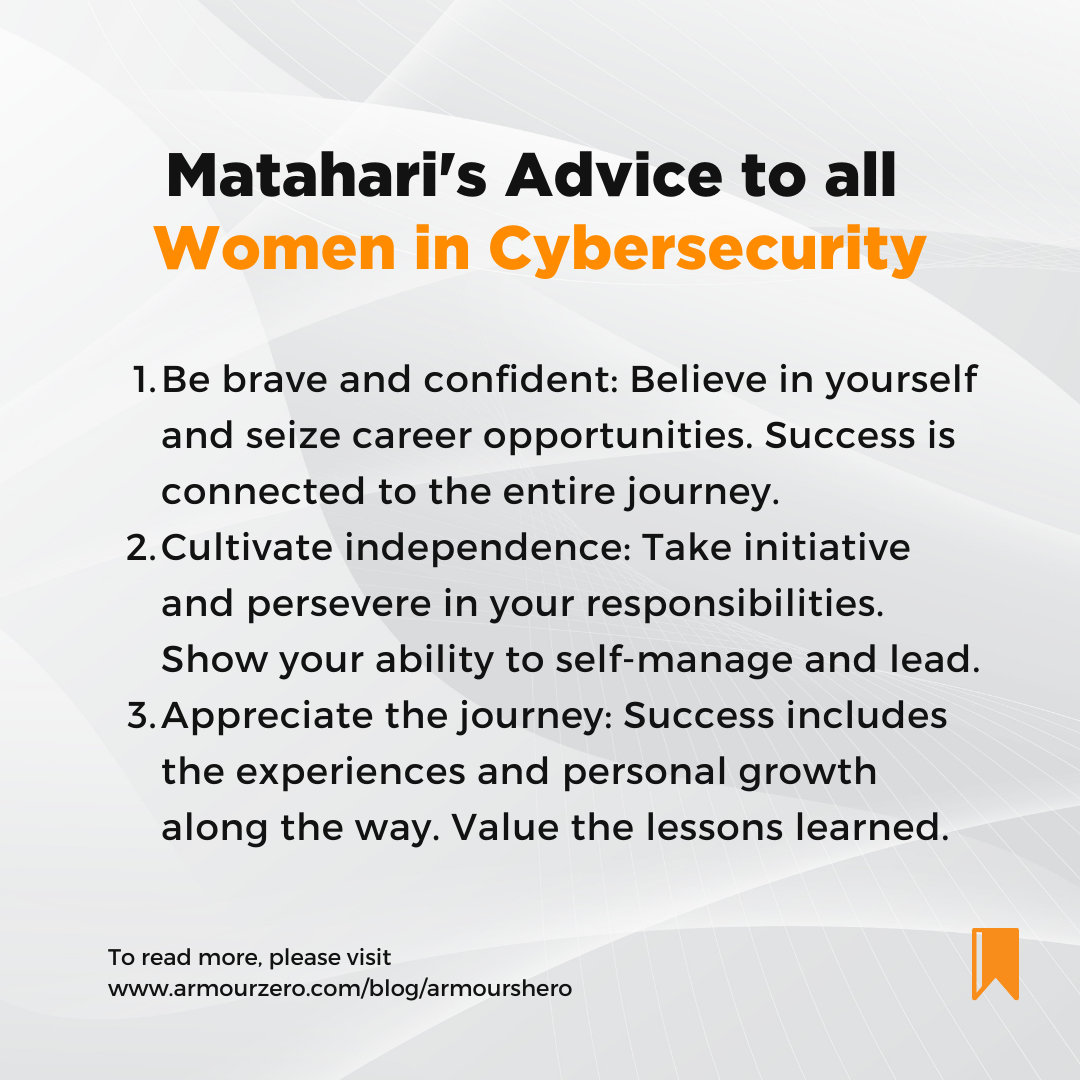 The advice I can offer to young women who have an interest in pursuing a career in the cybersecurity industry is as follows: Courage and self-confidence are important when embarking on a career journey. It is crucial to believe in ourselves and embrace the opportunities that come our way, trusting that each step in the process will ultimately lead to success, as success is intrinsically linked to the journey itself.
Additionally, cultivating a sense of independence is equally important. When we develop a strong sense of independence, we are empowered to fulfil our duties and responsibilities with initiative and perseverance. This demonstrates our ability to self-manage and take the lead in our own endeavours, rather than relying solely on others.
#8 Who would you want to thank and appreciate for helping your career build-up?
I am deeply grateful for the individuals who have shown unwavering support throughout my journey as a woman in cybersecurity. The first person who truly inspired me was Deby Indah Lestari, my mentor during my time with the Incident Response Team at Blibli.com. Deby not only guided me in honing my skills and working diligently but also played a pivotal role in helping me discover my passion for cybersecurity.
Furthermore, I extend my heartfelt appreciation to the Cybersecurity/IT Security teams at Blibli.com, Bank Jago Tbk, Tokopedia, and GoTo Internal Audit Team. Their continuous support has been instrumental in fostering my growth and nurturing my talents and interests in the field of cybersecurity. Their guidance and encouragement have been invaluable throughout my career.
Lastly, I express my gratitude to the incredible individuals from Cyber Defense (CDEF) Indonesia. They have not only provided invaluable advice but have also demonstrated a remarkable willingness to share their extensive knowledge and expertise in cybersecurity. Their contributions have played a significant role in my professional development.
They are all truly remarkable.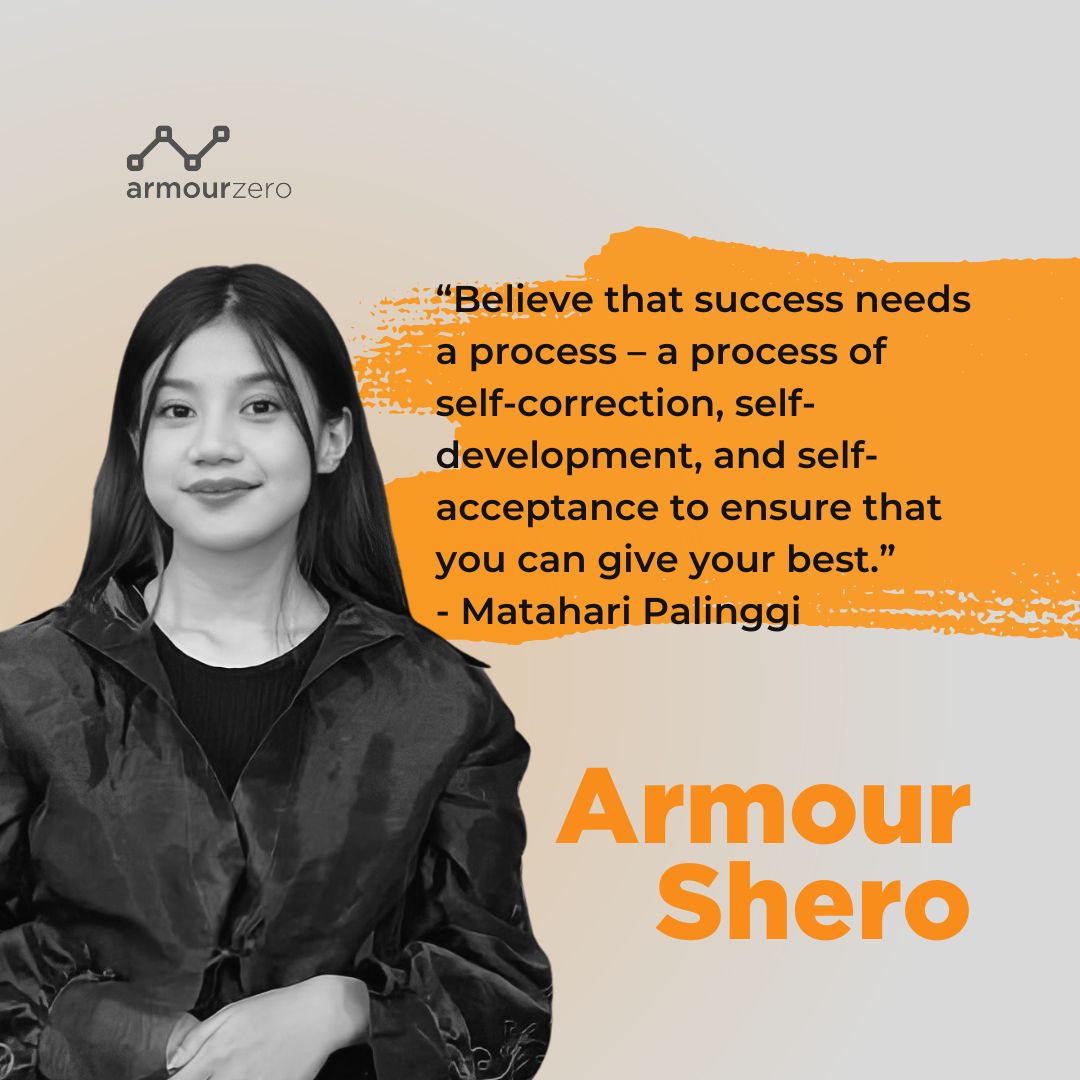 Share this post
Related Posts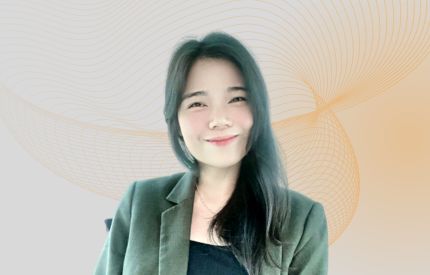 02 Oct 2023
By:Bernadetta Septarini
Category: ArmourShero
Queenie Liew, Solution Consultant Engineer at CSP Global Technologies, shares her passion and journey as a cybersecurity shero in the tech industry.